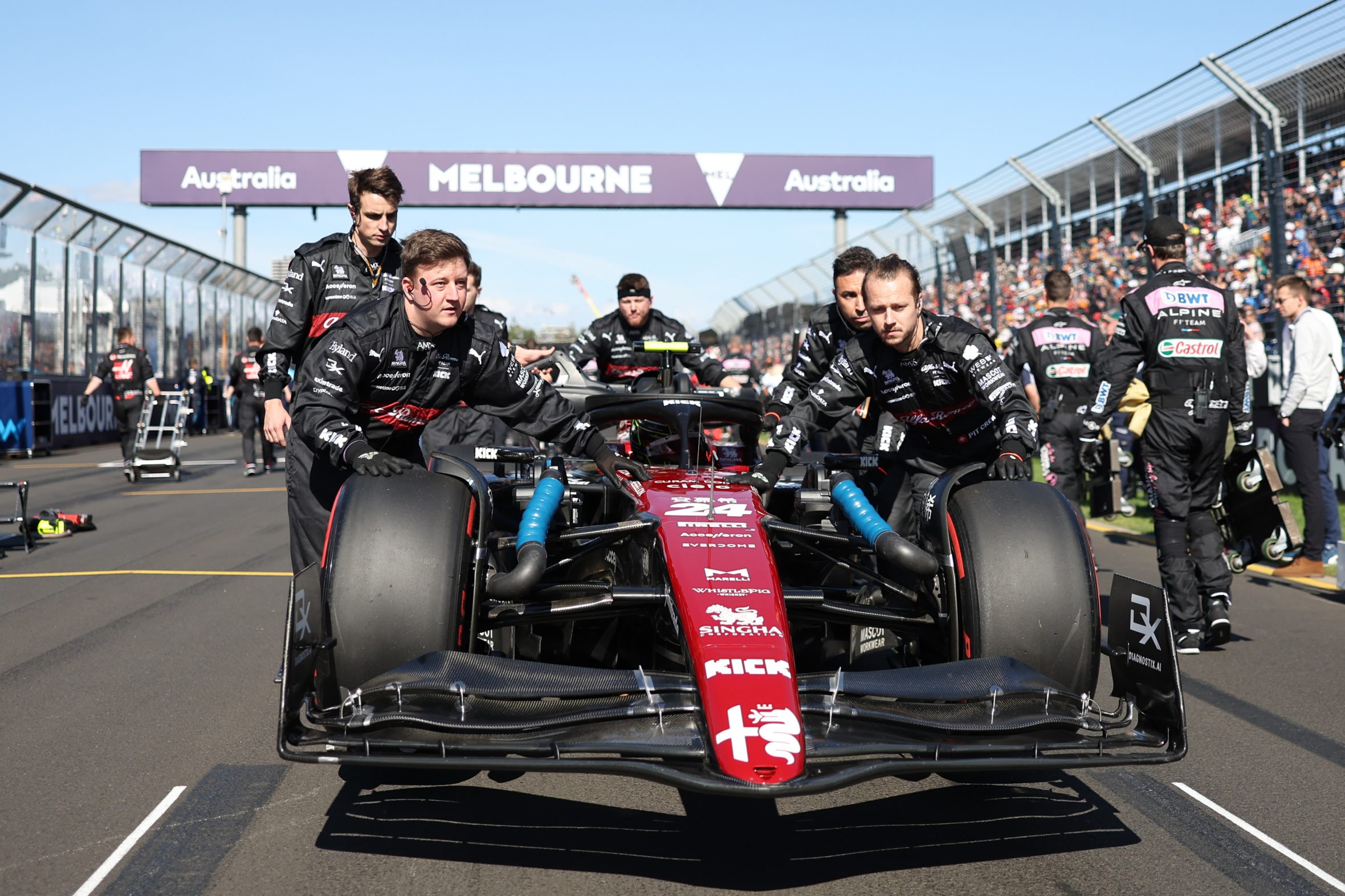 Alfa Romeo F1 Team KICK brought home two points from a chaotic Australian Grand Prix in which three red flags conspired to keep fans on the edge of their seats until the very end of the race. Zhou Guanyu kept his cool through the drama to cross the line in tenth place, immediately upgraded to P9 following a 5s penalty to Carlos Sainz ahead. Valtteri Bottas just missed out on the points in P11.
The two points claimed by Zhou bring the team's total to six so far this season, as Formula One goes on a four-week hiatus ahead of the Azerbaijan Grand Prix at the end of the month.
Alessandro Alunni Bravi, Team Representative: "Today's race shows the importance of fighting until the very end of the race. We kept pushing, we executed the race well and we placed ourselves in the position to capitalise on the opportunities when they came our way: luck is only getting a chance, we had to seize it. We were actually quite unlucky with the timing of the first red flag: we had both cars on the right strategy to fight for the top ten, but the stoppage, and the free stop it gifted everyone else, effectively jeopardised our afternoon. Both Zhou and Valtteri had a solid race, without making mistakes, and on a track like this it meant they were there or thereabout at the chequered flag. Two points are a good return in what has been a challenging weekend: we need to make the most of this little break before Baku to understand how to recapture the pace we had in Bahrain, analyse the data from the car, especially with the new upgrades our team at home was able to produce for this race, and get back stronger for the next rounds."
Valtteri Bottas (car number 77):
Alfa Romeo F1 Team KICK C43 (Chassis 03/Ferrari)
Race result: 11th
Fastest lap: 1:22.233 (Lap 46)
Tyres: New Soft (1 lap) – New Hard (52 laps) – New Soft (5 laps)
"I'm happy for Zhou and the team to come back with two points from what can only be described as a chaotic race. My afternoon had been quite lonely and without much action – until it all kicked off towards the end. We decided to take a risk at the start, and I pitted for hard tyres on lap one: the plan was to keep those tyres for the whole race, but then the red flag meant I couldn't get much advantage from that. Later, when the safety car came out, we went for softs, but yet again the red flag messed up with my strategy. It's been a hard weekend, we have been off the pace since the start, but we'll make sure to look into that in the gap before the next race. I am actually glad to have some time before Baku, to get back to the drawing board and get back in a more competitive shape."
Zhou Guanyu (car number 24):
Alfa Romeo F1 Team KICK C43 (Chassis 04/Ferrari)
Race result: 9th
Fastest lap: 1:21.819 (Lap 48)
Tyres: New Soft (1 lap) – New Hard (53 laps) – New Soft (1 lap) – New Soft (3 laps)
"P9 at the chequered flag is a good result, especially considering where we started and the challenging weekend we had. There are positives to take – we had a really good start, which is something we worked really hard on, and we didn't do any mistakes in a race where there were plenty of spills. We kept it clean, kept out of trouble, and I was able to keep the pressure on Magnussen in the later stages, which in the end allowed us to get points. The conditions out there were difficult, the track temperatures were very low but we didn't do mistakes and it is what matters. These are my first points of the year, always a nice reward in a tricky place like Melbourne. Now we will need to keep improving and hopefully add more points to our name in Baku and beyond."