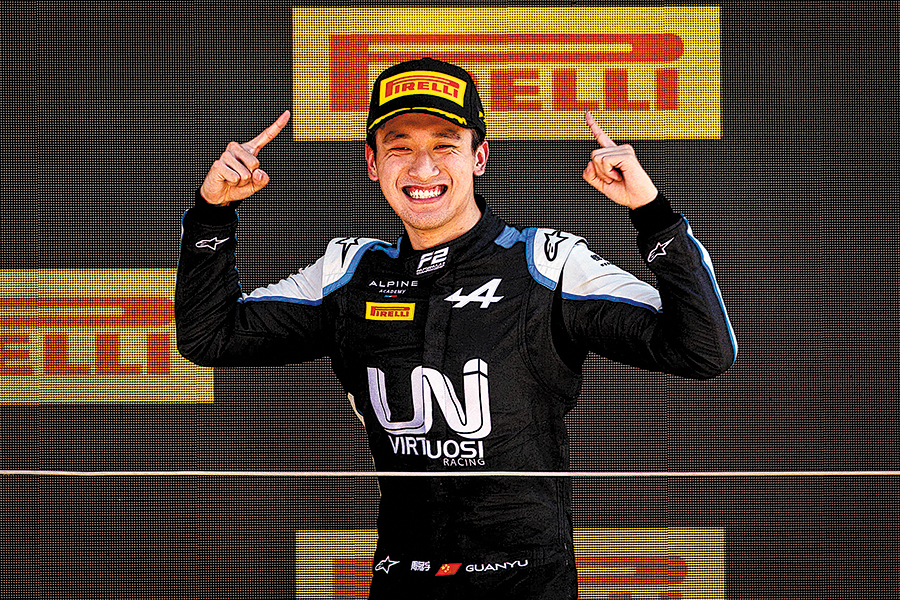 Zhou Guanyu celebrates victory at the British stop of the F2 championship on July 18. The Chinese driver currently sits second in the F2 standings as he chases a world title over the final two races. AP
As a boyhood Formula 1 fan, Zhou Guanyu has fond memories of roaring on his hero Fernando Alonso at Shanghai International Circuit. Now set to take his place on the F1 grid, Zhou is wrapping his head around the prospect of actually racing against the Spanish great.
"Fernando Alonso has been my idol since I was a boy, and when Alonso left Formula 1, Daniel Ricciardo became my idol. I'm very fortunate to have had a lot of communication with both these drivers," Zhou told China Daily in an exclusive interview on Thursday.
"We are familiar with each other and I have learned a lot from both of them. When I was a kid, I could not believe I would one day compete with Alonso.
"I first became aware of him when I first watched F1, and that year he won the world championship. I feel really lucky to have driven with him on the same track."
Zhou made motor racing history by being named China's first F1 driver earlier this month. Alfa Romeo Racing ORLEN announced on Nov 16 that the 22-year-old will join the team for the 2022 season, which is scheduled to open with the Bahrain Grand Prix on March 20.
"I knew I would be an F1 driver for next season before the official announcement. I first shared the news with my parents. I was really excited, it felt unbelievable, and it still feels like a dream. I kept pushing myself to achieve this dream, and I have finally made it," Zhou said.
Zhou's teammate at Alfa Romeo will be Finnish veteran Valtteri Bottas, who currently drives for Mercedes alongside Britain's seven-time world champion Lewis Hamilton.
"I'm looking forward to teaming up with Bottas. He's an outstanding driver with great speed and great ability. He has stood on the highest podium many times," said Zhou of the 32-year-old, who has 10 F1 race victories to his name.
"Being his partner brings a certain amount of pressure for me, but it's more like a motivation to learn from him. I can learn a lot from his vast F1 experience.
"I hope I can have an impact from the beginning, and then gradually improve to close the gap to his level, and together we can fight for better results for the team."
Alfa Romeo team principal Frederic Vasseur has hailed Zhou as an exciting prospect, and says the team is "looking forward to helping his talent flourish even more in Formula 1".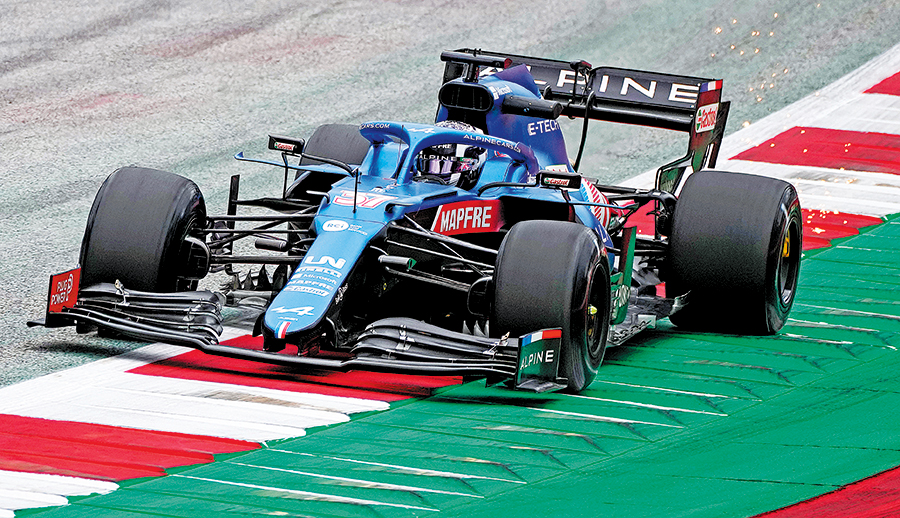 Zhou Guanyu takes a corner as Alpine's test driver during a practice session for the Formula 1 Austrian Grand Prix on July 2. The 22-year-old will next year line up on the F1 grid for Alfa Romeo Racing ORLEN after being named as the sport's first Chinese driver earlier this month. AP
With great expectations comes great pressure, and now the priority for the rookie is to prepare as best he can for the 2022 campaign. He says the focus will be on refining his driving skills and working hard in the gym to bulk up for a sport which, surprisingly to many fans, is extremely physically demanding.
"After first being excited, I quickly realized I would need to work harder than before to improve," said Zhou. "I need to become a better driver on the track. And off the track, my life has become much busier. So I will make the best possible preparations.
"There will be 23 grands prix next season and we will travel to 23 different cities across the globe. It will be a big test of the drivers' fitness. So I know I can't just rest on my laurels during the winter break. Instead, I need to work extra hard.
"First of all, I need to level up my physical strength, especially my neck muscles. Due to the down force, an F1 driver needs to have a very strong neck. I need to maintain the highest standard so I can make the necessary adjustments for my first F1 season.
"I will also have more communication and online meetings with the team, in order to ensure my preparations are as comprehensive as possible."
Zhou is currently placed second, on 142 points, in the F2 championship, driving for the UNI-Virtuosi team. He began his third F2 campaign this year by winning the feature race at Bahrain's Sakhir circuit in March. Two months later, he continued that fine form with a sprint race triumph at the iconic Monaco street circuit.
Zhou has raced in F2 since 2019, finishing seventh in his rookie season. Last year, he managed six podium finishes, including a breakthrough pole-to-flag sprint race victory in Russia en route to an impressive sixth-place finish in the overall standings. That result, though, wasn't quite up to his own impeccable standards.
"For me the toughest time of my career so far was the 2020 F2 season. Finishing sixth was acceptable, but many people knew if hadn't had such bad luck I would have ended up with a much better result," said Zhou.
"On a number of occasions, my car encountered technical failures. Otherwise, I could have had a top-three finish. That year was not easy, but I definitely matured as a result of those setbacks.
"Generally speaking, I'm satisfied with my F2 season this year. There have been a few regrets, but it's great that I showed my strength at the start of the season, especially on the street circuits.
"I will still fight for the championship title this year, as I'm now in second spot, so there are still chances. And now I feel more relaxed for the final two races."
As a young boy, Zhou was initially attracted to motor sports due to the speed and the sound of the engines, recalling how he would imagine wearing ear plugs while working on the track. As he gained more knowledge through the years, he realized just how difficult it is to become a professional driver, especially in F1.
"A lot of people think that all an F1 driver needs to do is put his foot on the gas, but that's far from the reality. Those who really understand motor racing know that the physical requirements on a driver are really high. Drivers need to handle intense pressure on their bodies, especially when we go through corners," explained Zhou.
"Due to the high temperature inside the car and the fireproof suits, drivers also face the risk of dehydration. All professional motor racers need to go through thorough training from a young age. So, the requirements for becoming an F1 driver are really high.
"Moreover, motor racing is not a one-man sport. Fans generally only see the team's two drivers, but behind the two drivers are a lot more people fighting alongside us to provide us with a vast amount of information. Engineers build the best possible cars for us, and the team devises in-depth strategies."
Now Zhou is working hard to ensure that he does himself, his team and China proud in his debut F1 season.