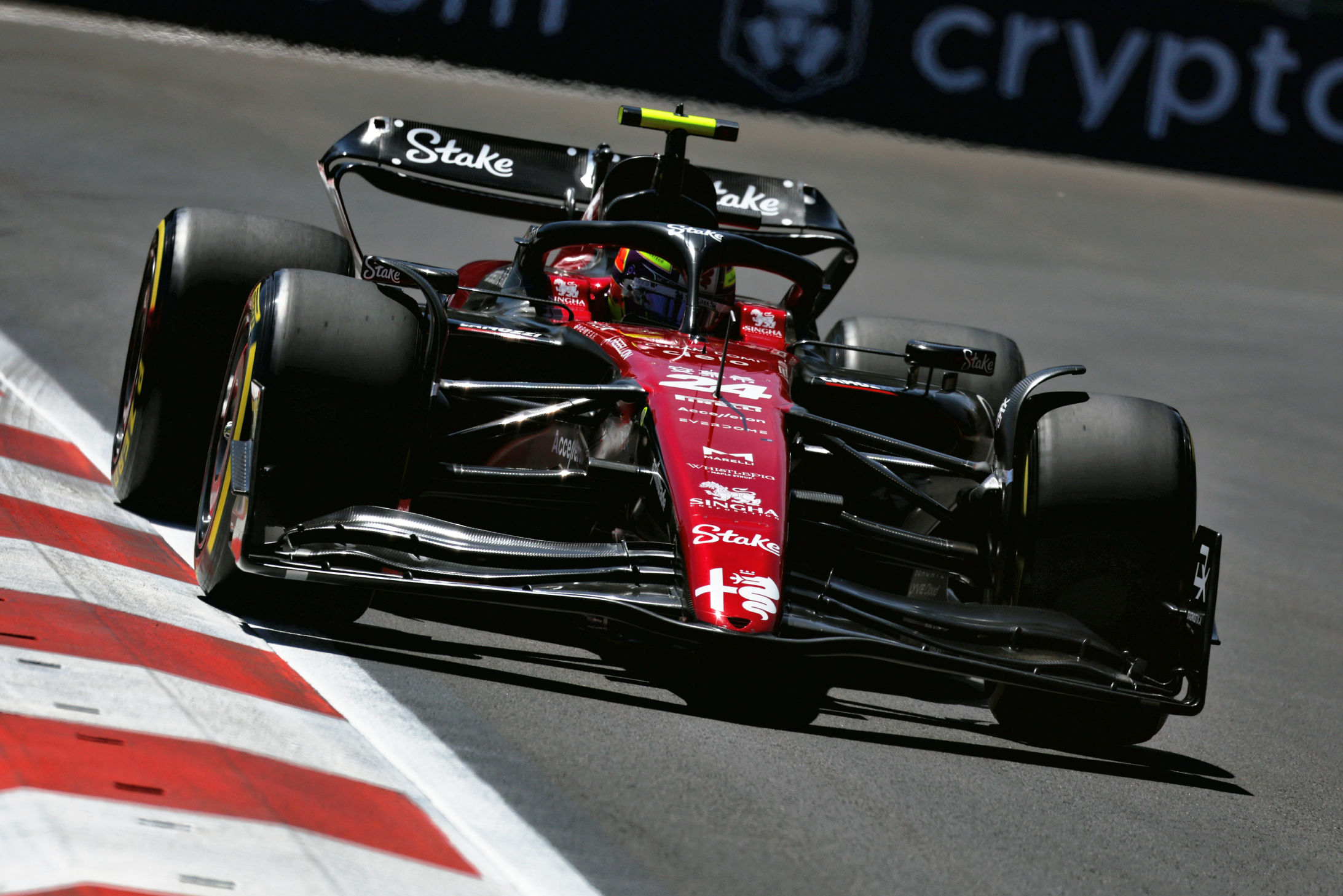 Alfa Romeo F1 Team Stake showed promise in today's Sprint Race. Having opted for an aggressive strategy, splitting the tyre compound choices between the drivers, Zhou Guanyu made the most of the medium tyres to deliver a good race with solid pace; the Chinese driver made up three places in the 17 laps of the Sprint, showing an uptick in competitiveness compared to qualifying and finishing 12th. Valtteri Bottas, on an alternative strategy on the soft tyre, played the team game and helped Alfa Romeo F1 Team Stake gain a better understanding of the performance of the compounds in race conditions – knowledge that will be useful in tomorrow's showpiece event.
Alessandro Alunni Bravi, Team Representative: "We came together as a team and took some firm decisions: we knew we had to be aggressive to make up ground after yesterday's qualifying, so we split the starting tyres for our two cars. We now have a much better, in-depth understanding of the soft and medium compounds' behaviour in race conditions and that will allow us to define the best possible strategy for tomorrow. On the mediums, we saw our pace was allowing us to battle and close in to the top ten, so that will be our objective tomorrow. We know there's a lot of work ahead of us, but we're committed to go to any length to move forward: everyone is pushing hard for this, here and back at the factory. The race tomorrow will be a fight, but we're ready to give everything for it."
Valtteri Bottas (car number 77):
Alfa Romeo F1 Team Stake C43 (Chassis 02/Ferrari)
SQ1: 17th / 1:45.352 (6 laps)
Sprint: 16th
Fastest lap: 1:46.277 (Lap 9)
Tyres: New Soft (17 laps)
"Today was about working as a team, and this is what we did. Overall, our pace was a step forward from qualifying, and we leave today's Sprint with some good learnings. We knew it was going to be quite tough, from where I was starting, so we decided to try something different with the soft tyres, while Zhou went with the mediums. It didn't quite work out for me in the end, I tried to keep fighting but, of course, everyone on the Medium was eventually going to be faster. Overall, I think it was good to give it a try, and figure what is going to work and what not for tomorrow's race. We saw that Zhou was able to fight with the cars around him and make up some ground, and that gives us confidence ahead of tomorrow's race."
Zhou Guanyu (car number 24):
Alfa Romeo F1 Team Stake C43 (Chassis 04/Ferrari)
SQ1: 16th / 1:45.177 (6 laps)
Sprint: 12th
Fastest lap: 1:45.766 (Lap 16)
Tyres: New Medium (17 laps)
"I felt good with the car, our pace today was good and this is a promising sign ahead of tomorrow's race. After yesterday's qualifying, we chose to go in two opposite ways with the strategy to maximise our chances and our understanding of the tyres for tomorrow. Starting where we were, in such a short Sprint and with only eight points-scoring positions, the realistic aim was to learn as much as possible and we did that, through both my and Valtteri's race. It was good teamwork and it ended up helping me today: the medium tyres performed strongly and I was able to keep Gasly behind even though I had no DRS. We got lots of long-run data and we are optimistic: the aim is to move forward and get into the points. We did that in Melbourne, and there is no reason there shouldn't be a similar, if not bigger, chance here in Baku. Of course, strategy and a bit of luck with the circumstances will need to be there, but we're ready to fight and keep making progress."