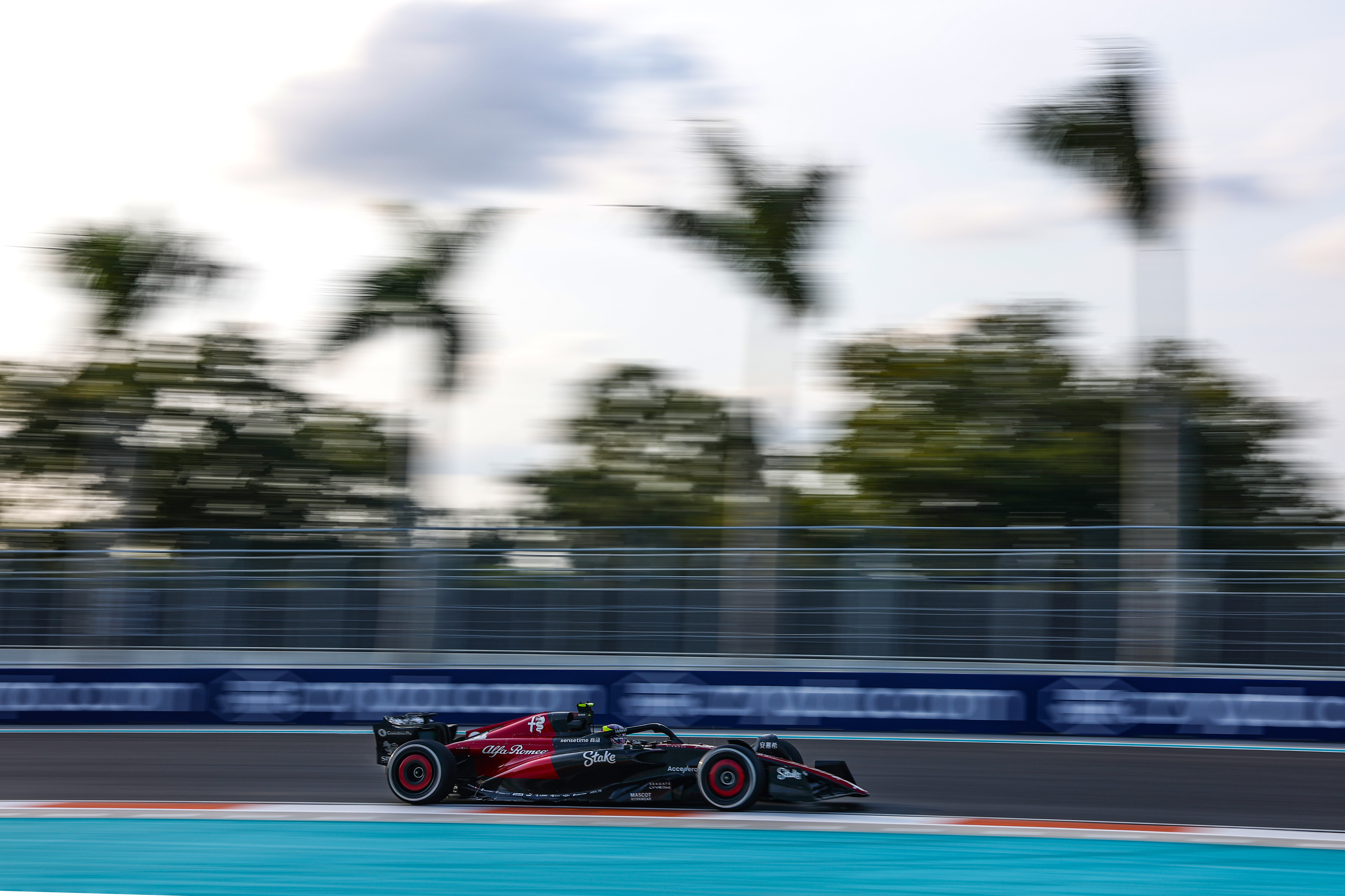 Alfa Romeo F1 Team Stake put up a fight in the 2023 Miami Grand Prix, with both cars involved in the action from lights to flag. Despite a feisty performance and a strong opening stint, Valtteri Bottas finished outside of the points in 13th, with team-mate, Zhou Guanyu, completing his performance in 16th.

The team returns home after a testing couple of weeks of racing, with the focus on delivering upgrades for the next event – the Emilia Romagna Grand Prix in Imola, in a fortnight.
Alessandro Alunni Bravi, Team Representative: "We saw some real signs of improvement this weekend, especially in qualifying, which had been a weaker point earlier this season. We take this as an encouragement and as a spur to keep working hard. We may not have scored points today, but we have a foundation on which to build – starting tonight, back in Hinwil, where the team is already at work, analysing today's race and producing the upgrades that will make their debut in Imola. Today's race saw us fight for a place in the top ten for a large part of the afternoon: in a race with no retirements, this was as far as we could go. The season remains long, and we're motivated to make another step forward next time around: everyone is pushing for it and I'm confident we will keep moving in the right direction."
Valtteri Bottas (car number 77):
Alfa Romeo F1 Team Stake C43 (Chassis 02/Ferrari)
Race result: 13th
Fastest lap: 1:31.838 (Lap 56)
Tyres: New Medium (15 laps) – New Hard (42 laps)
"There are some positives to take from this weekend, although there is still a lot of work to do to be fighting in the top ten. The start of my race was quite good: we made up a few places and were well into the points. I tried my best to keep up the fight and defend my position; unfortunately, we didn't quite have the pace we showed yesterday, when we had managed to be competitive on the single lap. I think our finishing position reflects where we stand at the moment, and we must keep working to improve. Our main focus now needs to be on making that extra step forward to be competitive again. We will bring new parts in Imola, and hopefully they will allow us to progress and get back in the fight for points. I am confident in the work we are doing as a team, and I am looking forward to the next rounds."
Zhou Guanyu (car number 24):
Alfa Romeo F1 Team Stake C43 (Chassis 04/Ferrari)
Race result: 16th
Fastest lap: 1:31.736 (Lap 56)
Tyres: New Hard (31 laps) – New Medium (26 laps)
"We made a step forward this weekend, especially in qualifying, but we still need to work hard to get back into the top ten on Sunday. Today, it was very difficult to break the DRS train and it was only as the race progressed that I found a bit more speed and space. We take the positive from Saturday and we look ahead: I know everyone is working hard back at base to make progress. I am looking forward to the upgrades we will have in Imola, and also to racing on a permanent racetrack – it feels those suit our package a bit better at the moment. We keep our head up and we keep working hard."