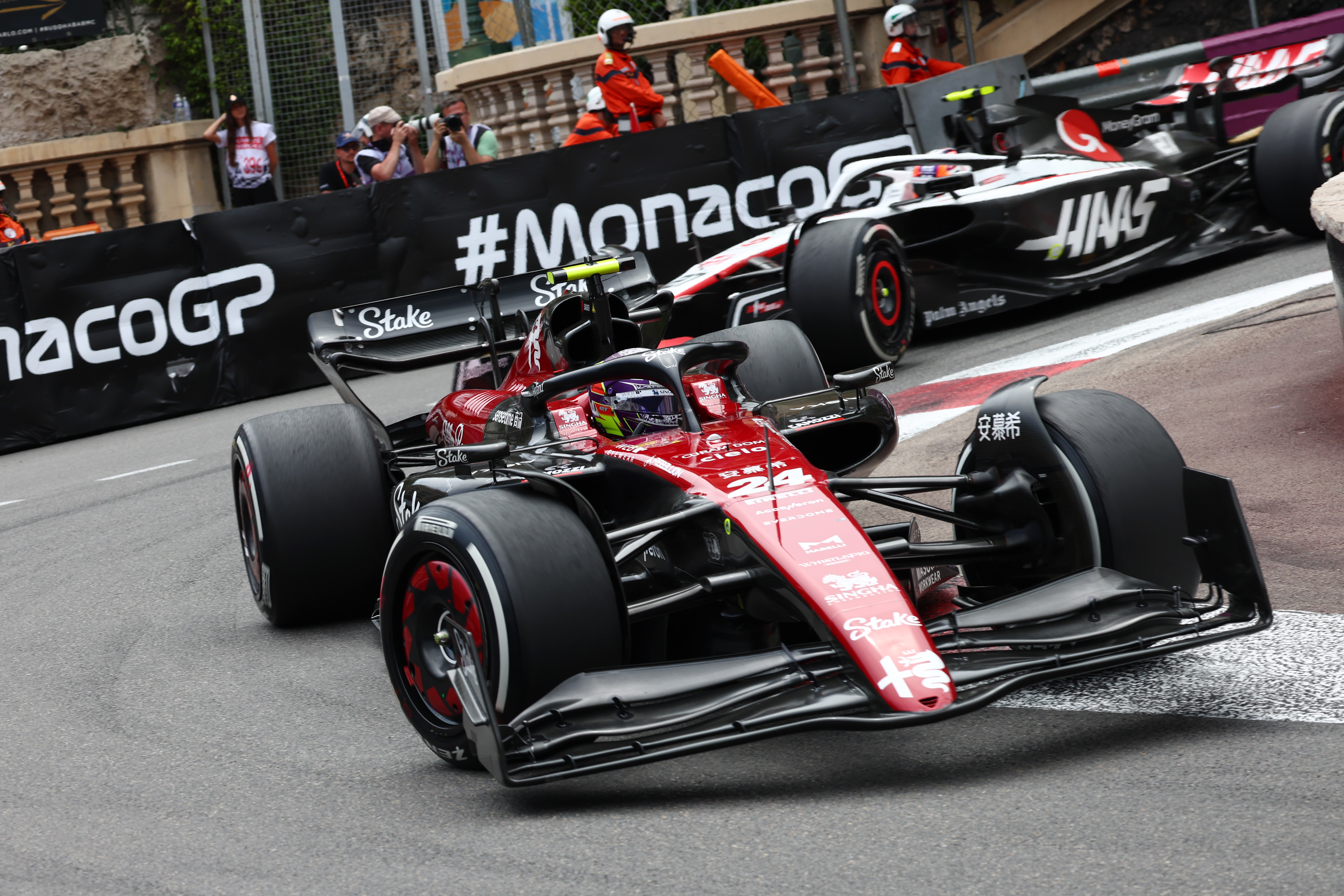 Alfa Romeo F1 Team Stake fought in the streets of Monaco, made treacherous by the elements, as Valtteri Bottas and Zhou Guanyu narrowly missed out on the points. Starting from the back rows on the grid, both drivers climbed the rankings, with Valtteri closing in 11th place and Zhou in 13th. The ten positions gained overall were the biggest improvement from any team during a race that was profoundly affected by a downpour just after the halfway mark.
The team will now move to Barcelona for the next round of the championship, another important step as the team continues to assess the new aero package introduced in Monte Carlo.
Alessandro Alunni Bravi, Team Representative: "The team executed a good race to recover as much ground as possible, and in the end no other team made up as many places as we did. We knew we had a big job on our hands after yesterday's qualifying, so we chose to be aggressive with our calls: we pitted Zhou on the first lap, to switch him to hard tyres and try a strategy that would allow him to move forward. When the rain came, we were the first to switch to the intermediate tyres, with Valtteri, and in the end we were able to make up quite a few places. Unfortunately, that wasn't enough to get into the top ten, but we cannot fault ourselves for the work we did today, especially on a track where overtaking is so difficult. We can take heart from today's performance and the way we rebounded after yesterday's struggles: now we have to focus on Barcelona, where we must make a step forward as we keep extracting performance from our upgrades."
Valtteri Bottas (car number 77):
Alfa Romeo F1 Team Stake C43 (Chassis 02/Ferrari)
Race result: 11th
Fastest lap: 1:17.824 (Lap 19)
Tyres: New Hard (52 laps) – New Intermediate (26 laps)
"We had a solid race and probably got as much as we could out of the day. When you make up four places in Monaco, it's not a bad result and it's only a pity we couldn't get any points from our efforts. The rain helped us a bit by mixing up the race, but we had to take some important decisions and we made all the right calls. It was not easy out there, even on inters, as the track was very wet in places and drier in others, but we chose to play this card before everyone else and we gained ground as a result. The car felt better with the upgrades we brought in, and we will hopefully get more performance out of it in Barcelona, a faster track where our package should work a little better. I'm looking forward to it."
Zhou Guanyu (car number 24):
Alfa Romeo F1 Team Stake C43 (Chassis 01/Ferrari)
Race result: 13th
Fastest lap: 1:16.926 (Lap 5)
Tyres: New Soft (1 lap) – New Hard (51 laps) – New Intermediate (25 laps)
"We had a good race in very difficult conditions and, considering where we started, we can be pleased with the progress we were able to make. We made the call to pit on lap one, an aggressive choice that would have meant finishing the race on just one set of hard tyres. The pace we had on those was quite good and I made up a few places, holding off cars on fresher tyres before the rain started. The rain reset everything, we had to do another stop and deal with really difficult conditions: the track was really tricky, every corner could catch you out and I had to be very careful. In the end, we made up six places and it was quite good fun. Most importantly, our race pace was good and a good indication going forward to different tracks and other conditions."