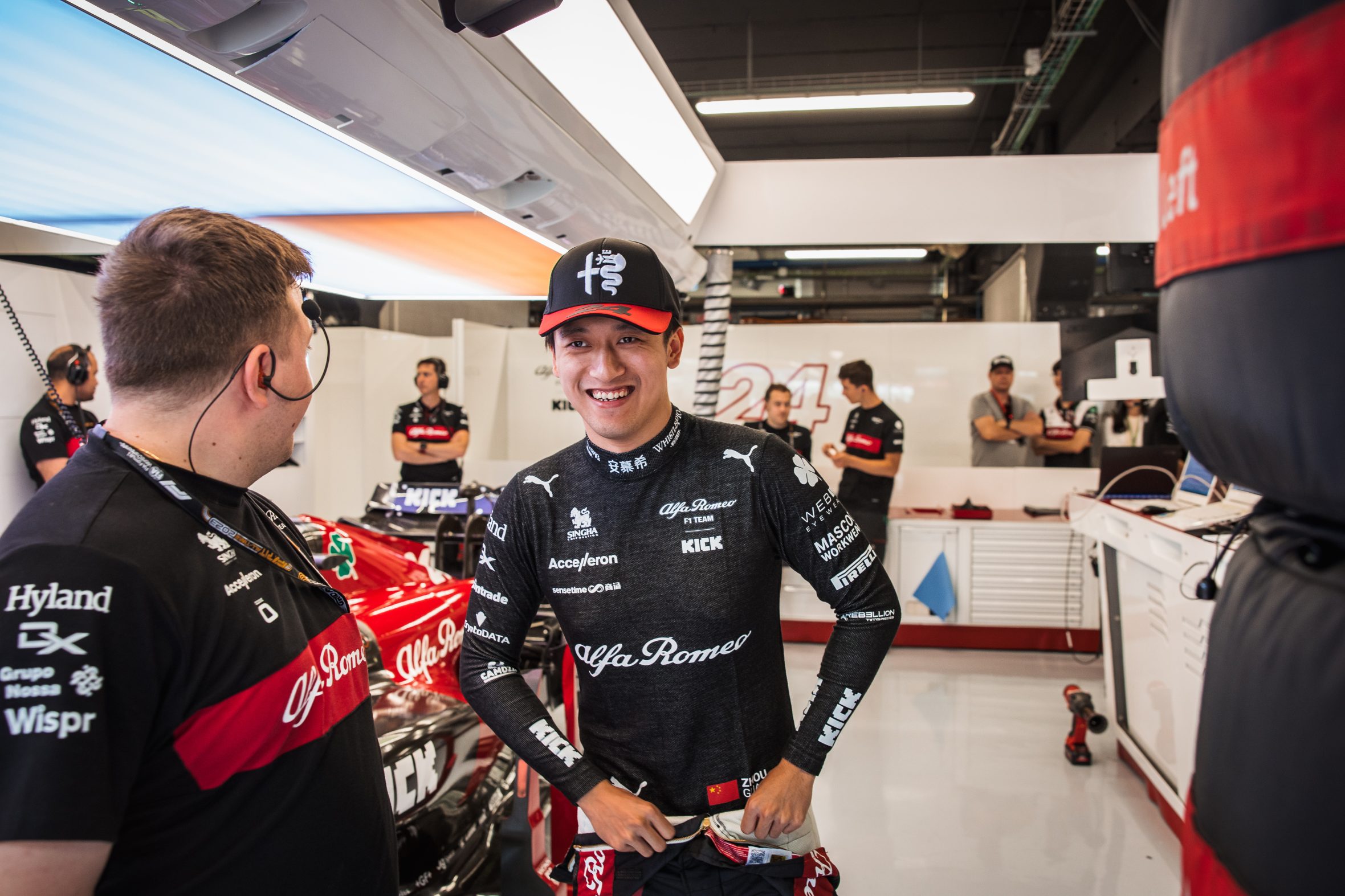 Alfa Romeo F1 Team KICK brought home two precious points from the Spanish Grand Prix as Zhou Guanyu delivered a flawless race in Barcelona. The Chinese driver made a leap forward at the start, settling into the top ten during his first stint: a good strategy saw the team react to the unfolding situation on track and, by the end of the afternoon, this resulted in Zhou crossing the line in tenth place – and immediately promoted to ninth, following a penalty to Yuki Tsunoda. 
Valtteri Bottas's race was compromised at the start, as damage to the floor of his C43 from some debris had a severe impact on his car's performance. In a race with no yellow flags, on-track incidents or retirements, Valtteri, starting in 16th, had no chance to recover to the points. The Finn ran line astern with Zhou for a few laps in the middle of the race, eventually playing the team game and providing a good rear guard action to his team-mate before finishing in 19th. 
The two points gained see the team reach a tally of eight, equalling Haas and moving closer to the rivals ahead.  
Alessandro Alunni Bravi, Team Representative: "Today, we showed that we're ready to fight for every single lap, every single tenth of a second on track. We have shown that, working together with determination and as a team, we can deliver the result we all, and our drivers, deserve. The field is very close, we saw that today: every thousandth of a second matter so we need to be aggressive, have a results-driven mentality. We had a hard fight on track with the Haas, the Alpines, the AlphaTauris and to come out of this with points is a very positive result. Zhou drove very well, pushing every lap and working with the team on how to improve his performance. He is making good progress: especially after a tough weekend in Monaco, he showed the ability to bounce back with confidence and the points he scored are a good reward. Valtteri suffered a difficult Saturday, and today he suffered damage to his car that dashed any hope of a comeback. He will get back stronger in Montreal. We had a strong race as a team, with the right strategy calls from the pit-wall and good execution. The team worked really hard and we're grateful for their effort: the last few weeks haven't been easy but we knew we would get back. We keep fighting, together with our partners Ferrari, that have helped us to today's result. We had reasonable pace throughout the weekend and we confirmed that the good things we showed in practice were not a fluke. We saw that our race pace is better than our qualifying pace, which is something we will address as a priority as we aim for another step forward ahead of Montreal. There's no time to sit down now, there's work to be done every day both trackside and in Hinwil, and we have full confidence in our ability to deliver."
Valtteri Bottas (car number 77):
Alfa Romeo F1 Team KICK C43 (Chassis 02/Ferrari)
Race result: 11th
Fastest lap: 1:17.824 (Lap 19)
Tyres: New Soft (5 laps) – New Hard (34 laps) – New Hard (26 laps) 
"First of all, congratulations to Zhou and the team for getting points; he showed good pace, and that's encouraging for the next races, as proof of the hard work put in by the team back home in Hinwil and here at the track. From my side, we found damage to the floor, probably from some debris picked up at the start of the race, and that cost us quite a big chunk of performance: as a result, I just lacked pace altogether today, I wasn't able to put up a fight with anybody and it was quite a long race for me. I know we can put this race behind us and quickly come back on the right track before heading to Montreal in two weeks. The circuit will be once again completely different, and hopefully it'll suit our car. We had a decent race in Montreal last year, scoring a very good result for the team: hopefully, we'll be able to replicate that, and keep this streak running."
Zhou Guanyu (car number 24):
Alfa Romeo F1 Team KICK C43 (Chassis 01/Ferrari)
Race result: 9th
Fastest lap: 1:18.242 (Lap 50)
Tyres: New Soft (9 laps) – New Hard (27 laps) – New Hard (30 laps) 
"I really enjoyed today, it was a well-executed race from my side: I think these have been some of the best two days for me in Formula One, in terms of performance. I had a good first lap, and that was crucial to give us the opportunity to get something out of this race: our pace was strong, although there were times in which we had to manage our tyres wisely. I knew I had to keep the pressure on the others to bring home a result and, when the opportunity was there, I tried to force them to make a mistake. At the end, I knew I had the pace to take Yuki [Tsunoda]: I had DRS, I was half a car ahead going into the corner, but I wasn't given any space and didn't have any other choice than to take the escape route to avoid contact. In the end, things worked out well and we were able to bring home two points, which was a good result."