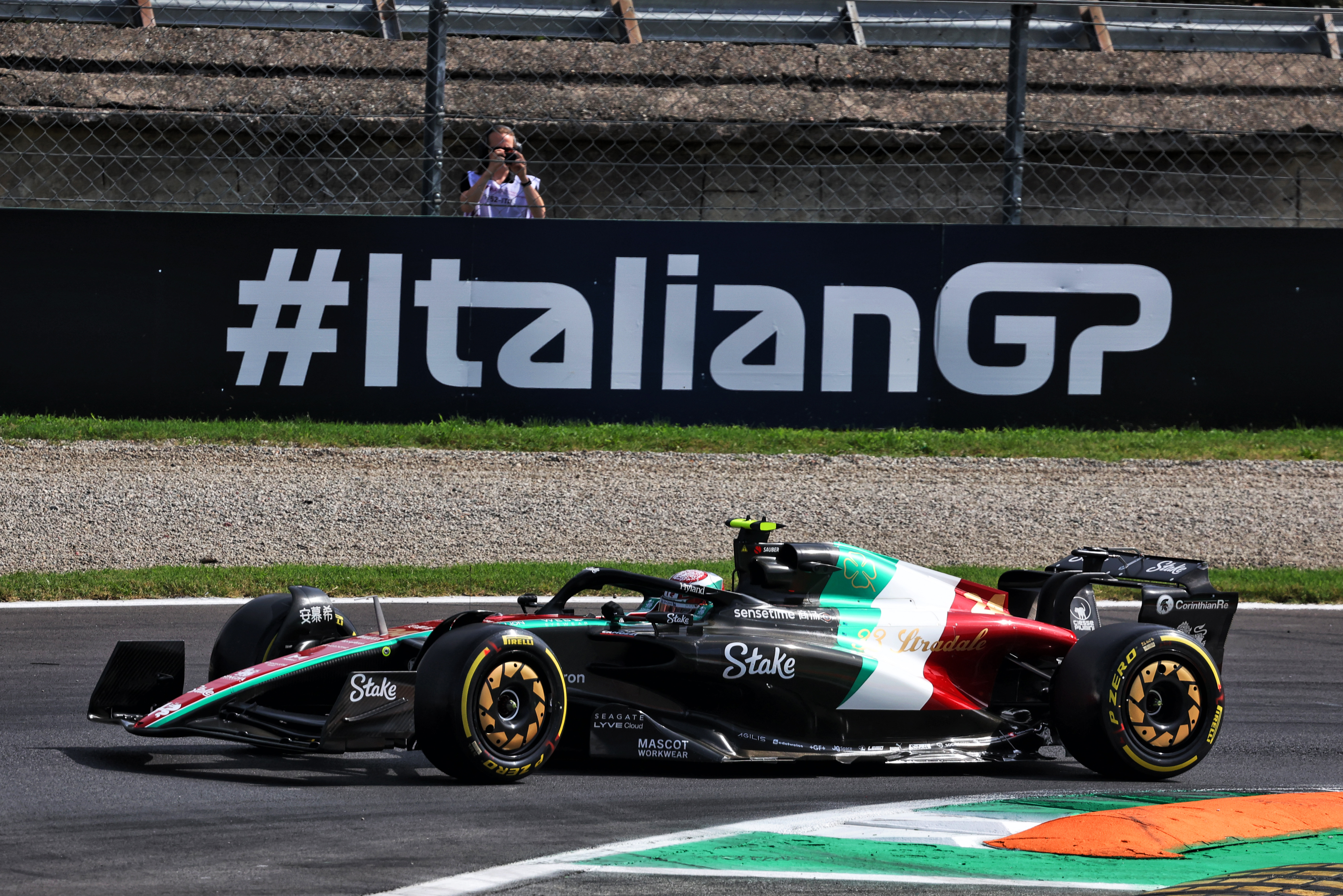 Alfa Romeo F1 Team Stake scored a precious point on home soil, with Valtteri Bottas finishing tenth in an exciting Italian Grand Prix. Opting for a reverse strategy as one of only three cars starting on hard tyres, Valtteri and the team executed a spotless run to make up ground in the second half of the race and climb into the top ten. Zhou Guanyu had a more challenging race, eventually finishing 14th in a performance that boasted some good overtaking manoeuvres.
Today's point brings the team's tally up to ten, as the team closes in on its nearest championship rivals and continues the fight for P7 in the standings.
Alessandro Alunni Bravi, Team Representative: "Before the race, we said our target today was to score at least a point, and it's very important we were able to achieve it. We executed a perfect race and we were able to hit our target. It's especially remarkable, given the difficult Friday and Saturday we endured: but the team dug deep and we were able to turn things around when it really mattered. We need to pay tribute to them, and to our colleagues in Hinwil for their support before and during the weekend. Valtteri made no mistake from lights to flag and was able to make his reverse strategy work, moving up the order in the closing stages. Unfortunately, it was a more difficult race for Zhou: we tried an aggressive strategy, pitting him a second time for new mediums, but the pace just wasnt enough to make it into the top ten. We can celebrate this point, but we must not forget about the struggles of Friday and Saturday. We need to analyse what went wrong, learn and improve constantly, starting in Singapore already: we showed good race pace and, if we can improve our qualifying positions, we can fight at every Grand Prix. We will not give up, not until after the final corner of the final race, in our quest to score points: we need to work harder as our target remains P7 in the championship. Finally, it's great to be able to celebrate with a top ten finish what has been an incredible weekend on and off the track: we started on Thursday, with the launch of the new Alfa Romeo 33 Stradale in front of our garage; we had our colleagues on the grandstand, putting together a great choreography; and we delivered a good race to top it off. Hopefully, this can be the start of a new phase of our championship."
Valtteri Bottas (car number 77):
Alfa Romeo F1 Team Stake C43 (Chassis 02/Ferrari)
Race result: 10th
Fastest lap: 1:25.988 (Lap 27)
Tyres: Used Hard (25 laps) – Used Medium (26 laps)
"Points were the target today, and we achieved that: it's nice to be back in the top ten as it had been a while, despite all our hard work, and this point is for everyone at Alfa Romeo. It may be just one point, but it is a good reward for the job done to turn our weekend around, and for the support of our home team from the grandstands. It's been a clean race from our side: our pace had slightly improved from qualifying, and we nailed our strategy, which helped us have some clean air and keep out of trouble. Overall, it is safe to say it has been a good day in the office today, and a good way to wrap up the European season."
Zhou Guanyu (car number 24):
Alfa Romeo F1 Team Stake C43 (Chassis 01/Ferrari)
Race result: 14th
Fastest lap: 1:25.983 (Lap 35)
Tyres: New Medium (11 laps) – Used Hard (22 laps) – New Medium (18 laps)
"I am glad to see Valtteri bring home one point from this race, a point that helps us close the gap to Haas. Considering the results we had on Friday and Saturday, we made a massive step forward, which is encouraging for the races ahead – especially as we are meant to bring further upgrades in Singapore, where we must make a further improvement. I believe that, overall, it has been a clean race from my side; Valtteri and I were on different tyre strategies, he started on hard tyres, and I was on mediums, focusing on the Alpines in the hope of undercutting them. In terms of pure pace, we were still behind Williams; for this reason, it'll be crucial to make that step forward in Singapore and keep on working to add new points to our tally."