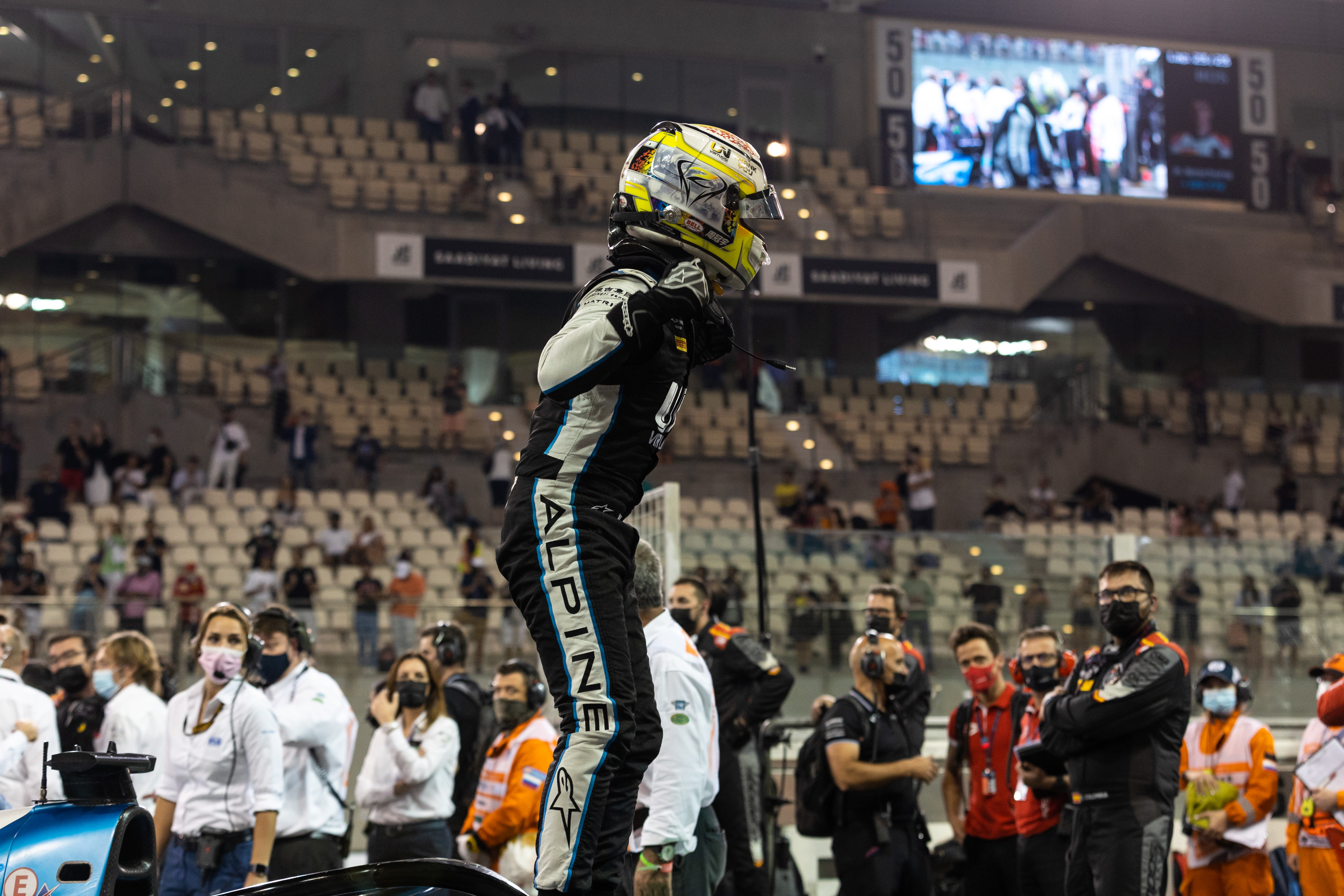 Last weekend, Guanyu Zhou collected 34 points totally in last Round of 2021 F2 Championship with a champion in Sprint Race 2 and a Feature Race runner-up.
More importantly, after this round, Guanyu Zhou finished in the third place of championship this season. UNI-Virtuosi also climbed to the second place of Team's standing in the last race by Guanyu Zhou and Felipe Drugovich's incredible performance.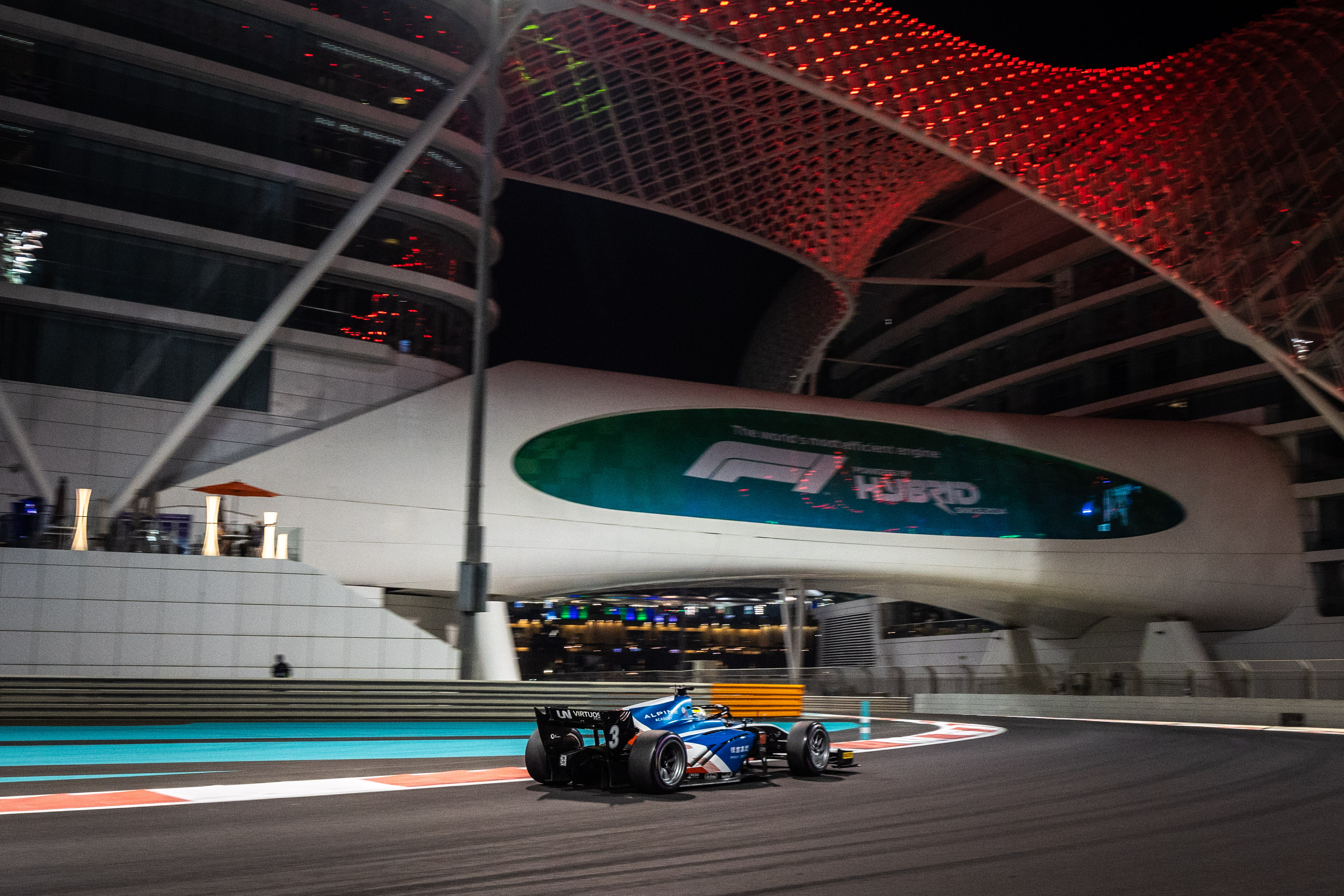 Qualifying
After the Free Practice session on Friday morning, the Qualifying session started at 6.30pm local time.
At the initial phase of session, Guanyu Zhou explored the new track layout with super soft tyres in his first and second flying lap, and finished in eighth during the opening half.
After changed the fresh tyres, his second set of push laps were much stronger and he briefly jumped to first. However, Piastri and Jack Doohan snatched up at the end of the session.
Finally, Guanyu Zhou took the third grid place of Feature Race, beating his main standings rivals Robert Schwartzman and Dan Ticktum.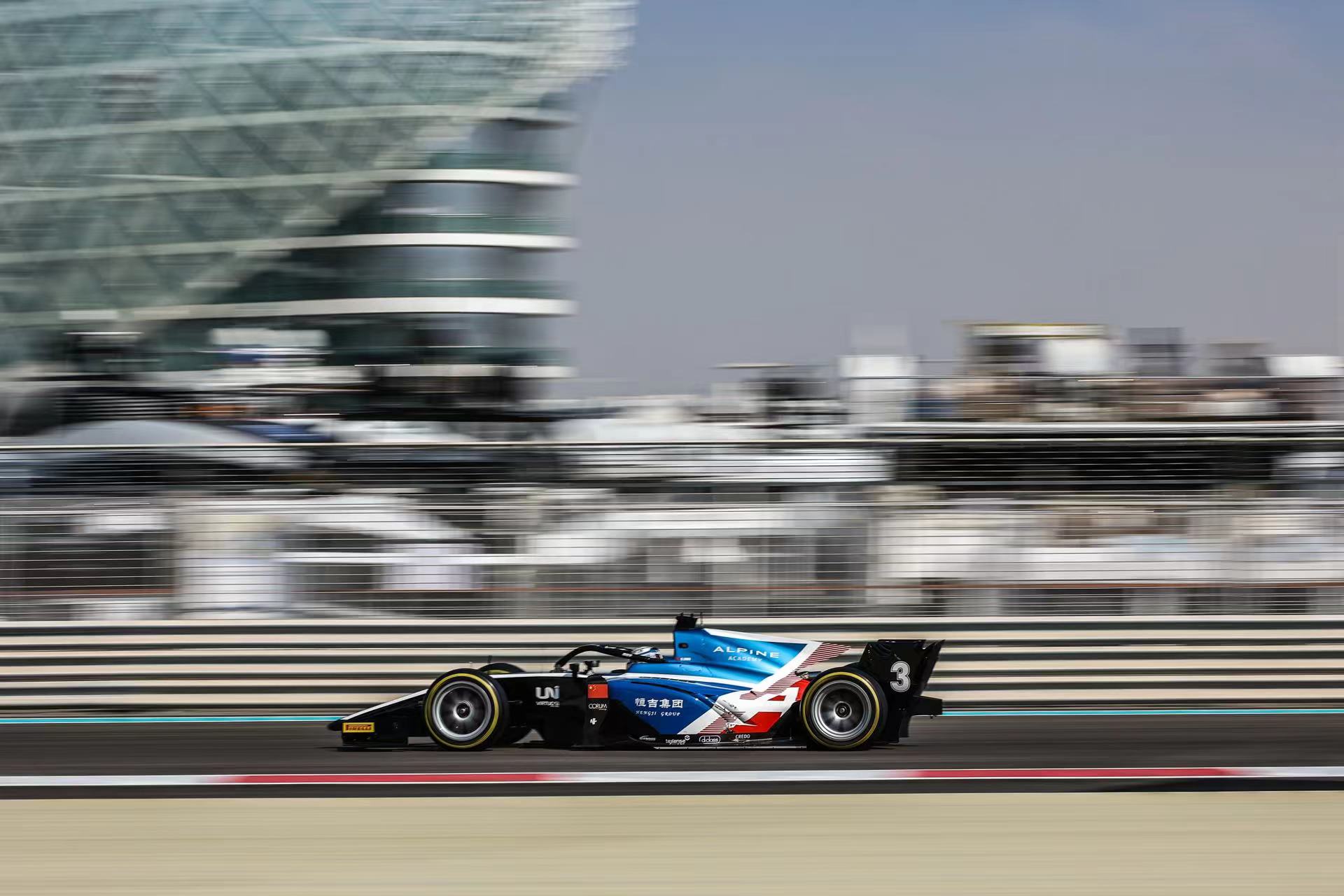 Sprint Race 1
Guanyu Zhou started on eighth for reverse grid in Sprint Race 1, which took place at 12.20pm local time, Saturday.
Daruvala got a great launch when the lights went out, steaking away to head into Turn 1 at the front of the field and ahead of Drugovich.
As Guanyu Zhou started in the dirty side of track, the rare grip of his car was terrible. However, he still held the nineth position, and overtook Ralph Boschung back in Lap 10.
Tyre wear proved particular challenging in 38-degree track temperatures, which made overtaking difficult in the second half of the race. Therefore, although Guanyu Zhou and Pourchaire obviously had better path than Ticktum, they still have no chance to pass him.
After 28 laps, Guanyu Zhou finished in eighth and score one point in the end. Daruvala took his second win in this season, and Piastri sealed the Formula 2 crown with a podium in this race.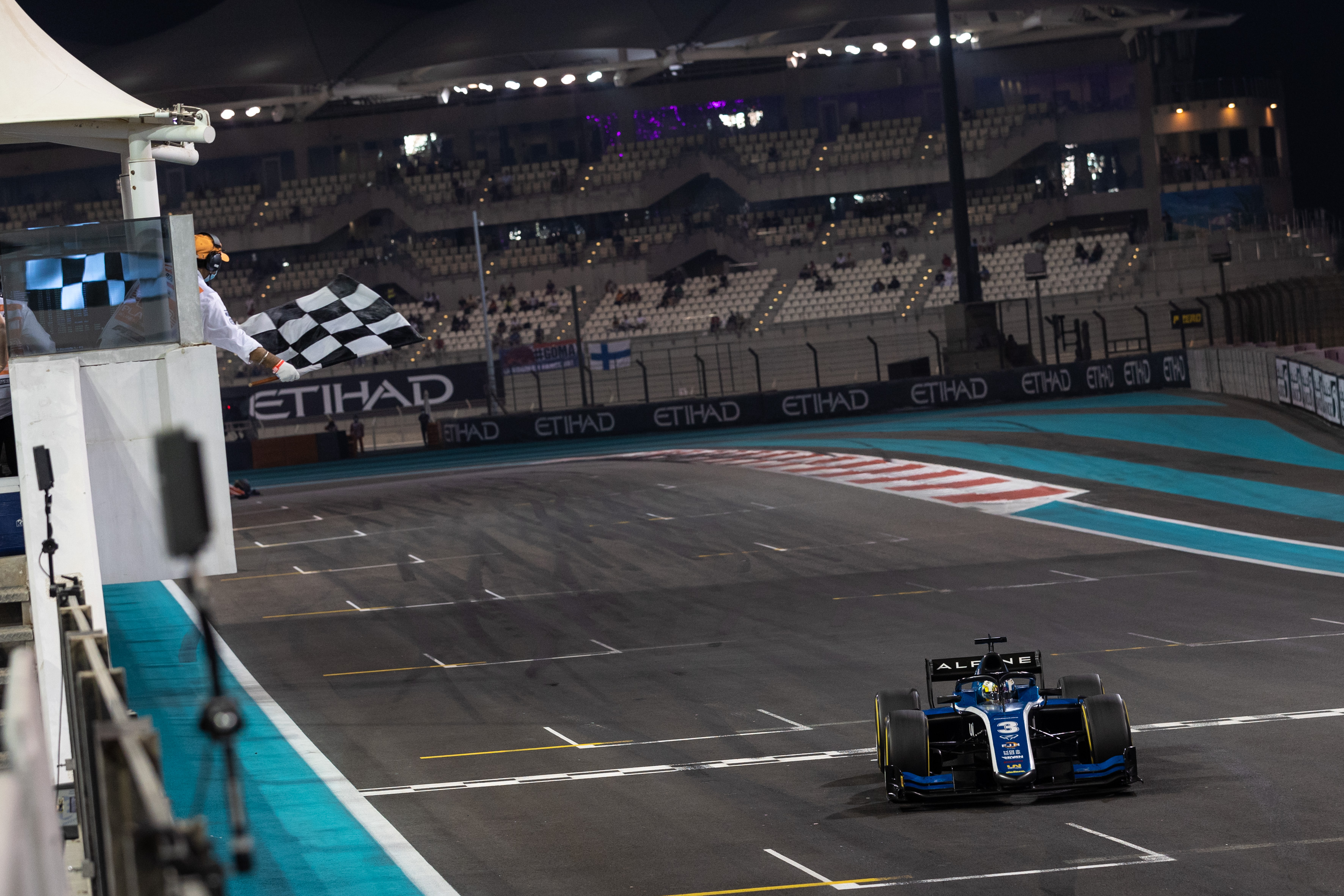 Sprint Race 2
A frenetic race start played out under the lights in Yas Marina, but not for Guanyu Zhou, who made a calm start and held their position in third place, which had dashed off into the distance and kept well clear of the trouble playing out behind him.
Everyone from Ticktum to Daruvala was involved in a mass brawl behind them. Piastri had launched his PREMA down the outside from P8 and was almost shovelled into the wall as those around him went four-wide. Since that, The PREMA fell to 13th and handed a five-second penalty for responsible for this collision.
As the chaos subsided, the grid were given a chance to breathe by the Safety Car, which arrived following contact between Alessio Deledda and Olli Caldwell at Turn 9. Caldwell managed to soldier on, but the Italian was forced to retire his HWA RACELAB.
Racing resumed and Piastri's charge back through the field began, the Champion want gain two spots in one corner, whereas resulting in a second Safety Car.
Zhou had skipped ahead of Boschung prior to the Safety Car and was promoted to first when the Aston Martin headed back into the pits, as Armstrong suffered a mechanical issue at the restart and pulled to a stop on the side of the road.
Only a Virtual Safety Car was required this time and Schwartzman jumped in front of Boschung when racing resumed, with Zhou holding onto first directly ahead of him.
Zhou managed to hold onto first at the flag, ahead of Schwartzman and returned to the top step of the podium for the first time since Silverstone in his penultimate Formula 2 race.
Zhou's fourth win of the season strengthens his bid to finish in the top three of the Drivers' Championship.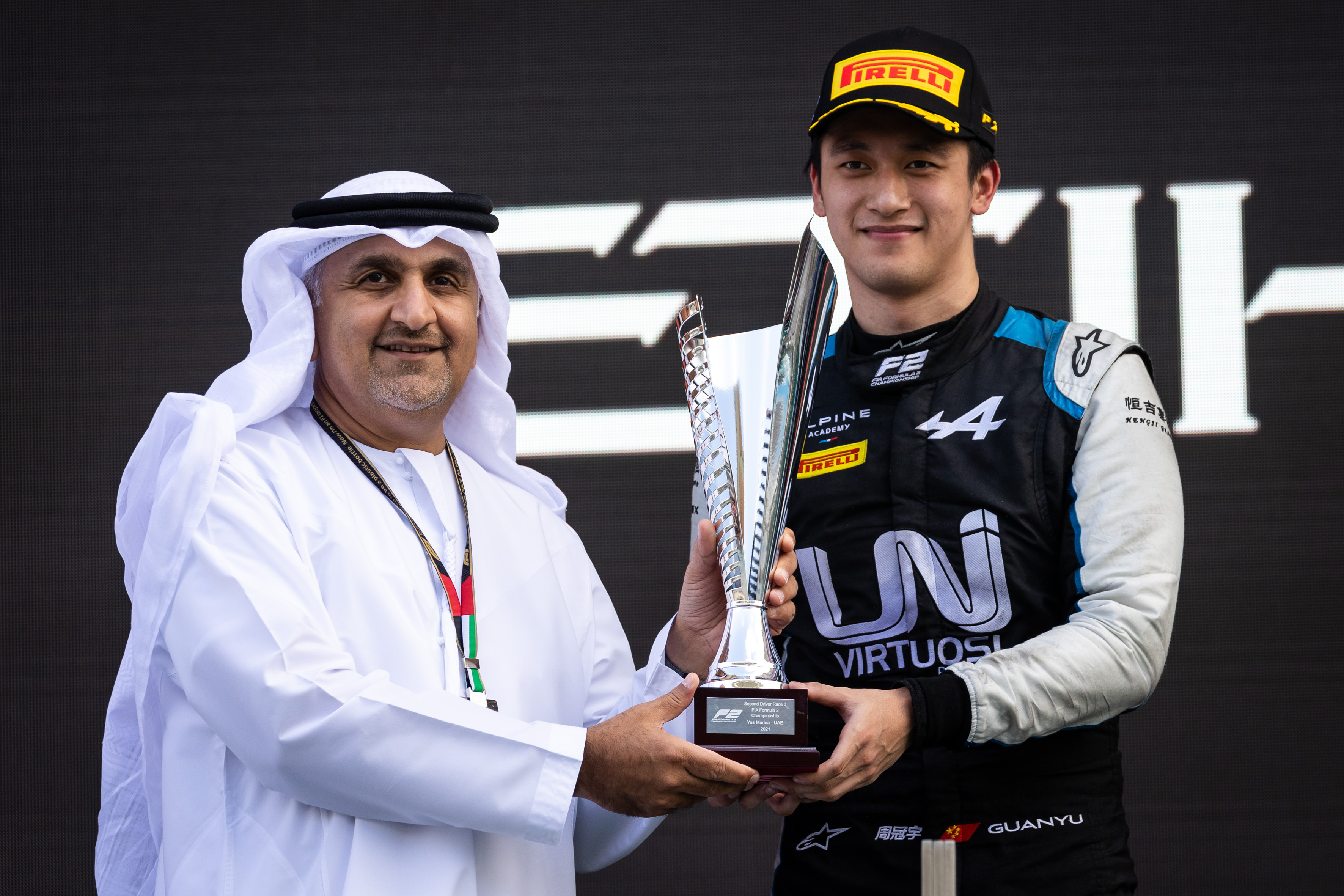 Feature Race
Zhou started in the third place perfectly, and put pressure on Jack Doohan for second immediately, the MP Motorsport driver the odd one out in the top five on the alternate strategy.
Doohan managed to cling on after three corners of wheel-to-wheel battling, but Zhou wasn't relenting and continued to harry the MP Motorsport rookie, who came out the track on Turn 9 and clipped the curb when he wanted to come back, picked up a chunk of marble and went spinning into the barriers.
The Safety Car was called out as Doohan clambered out of his MP and headed back to the pitlane. Meanwhile, Liam Lawson had also lost control of his Hitech during a battle with Schwartzman for fourth, falling to seventh.
Racing resumed and Lawson was the first man to ditch the supersofts on Lap 7. Zhou followed Piastri closely, and they headed in for fresh boots on Lap 9, returning in 12th and 13th, as Pourchaire assumed the lead on the alternate strategy.
After pit stop, Guanyu Zhou focused on tyre management passed Deledda on Lap 18.
The crossover between prime and alternate strategies arrived with five laps to go. Pourchaire dove into the pits, and Drugovich waited another lap.
Both of them overtook Schwartzman by their tyre advantage, but there is no chance for them to challenge Guanyu Zhou, who remained runner-up position at the flag and joint the podium secondly this weekend.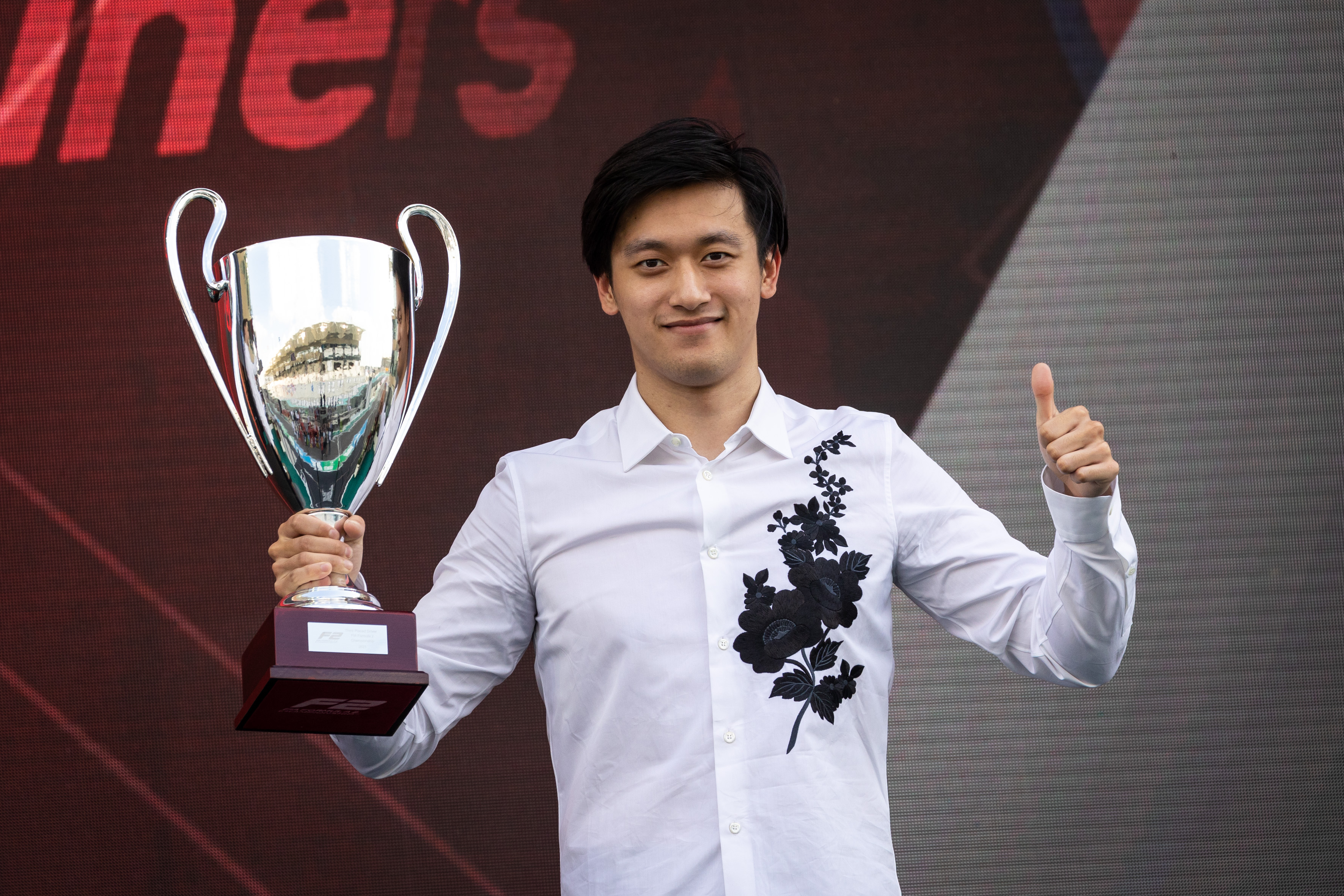 Finally, Zhou ends the season with 183 points and sealed his third place of championship. In the Teams' Championship, UNI-Virtuosi came back to be Vice-Champions on 288 by Guanyu Zhou and Felipe Drugovich's phenomenal performance in the last race.