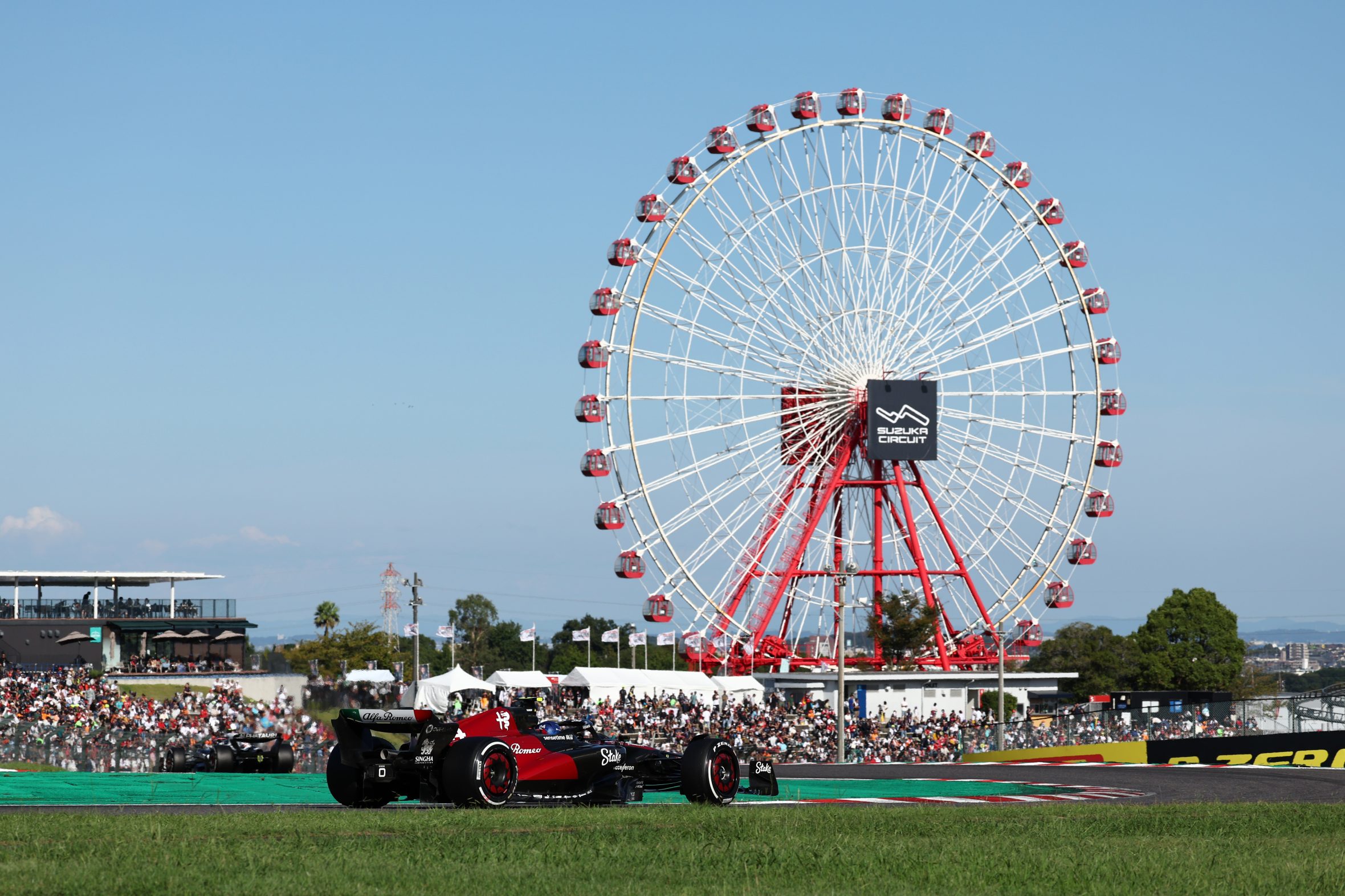 Alfa Romeo F1 Team Stake had its work cut out at the Suzuka Circuit, as opening-lap incidents compromised the team's drivers' races from the get-go. Valtteri Bottas saw his race come to an early end after just a handful of laps, after he sustained damage in two on-track collisions which forced the team to retire his car. Teammate, Zhou Guanyu, was affected by the fracas on the opening lap, and mostly drove a recovery race after he was required to pit to change his front wing – managing to climb up to 13th place and recovering six positions on track by the chequered flag.
It was a challenging Japanese Grand Prix for Alfa Romeo F1 Team Stake: the team will now make its return to its base in Hinwil, to regroup and analyse the performances of the Asian double-header in order to come back in competitive form in Doha at the beginning of October.
Alessandro Alunni Bravi, Team Representative: "There are still some positives to take with us from this weekend, although we come back from Suzuka with no points: we had reasonable race pace today, compared to our direct competitors; Zhou was able to perform a solid race, despite having been forced to pit to change his front wing because of damage. After the opening lap accident, Zhou managed to regain positions on track, thanks to a two-stop strategy which saw him running on soft tyres for most of the race and then change for hard in the final section, ultimately crossing the line in 13th place. After a very good start in which he gained two places, Valtteri was squeezed between Albon and Ocon, and forced to an early pit to change the damaged parts on his C43. Even though he was able to quickly recover thanks to the Safety Car period, Valtteri's race unfortunately came to an end when Sargeant took him out: the damage on the car was too heavy, and it was not possible for him to continue. Still, our team proved once again to be able to recover from less-than-ideal qualifying placements, which is why we must look at the next races with optimism: we are not too far from our direct competitors, as it is often just a matter of hundredths of a second. If we work at the top of our performance from FP1 on Friday onwards, we'll be able to extract more performance from our package and make that extra step forward to get back into the top ten."
Valtteri Bottas (car number 77):
Alfa Romeo F1 Team Stake C43 (Chassis 02/Ferrari)
Race result: DNF
Fastest lap: 2:02.755 (Lap 5)
Tyres: New Soft (1 lap) – New Soft (5 laps) – New Hard (1 lap)
"It's been a pretty eventful, yet short race for me today: I actually had a great start right off the line, but then I found myself caught between two cars, a Williams and an Alpine, going into Turn 1. There wasn't enough space, and that resulted in a collision which caused a puncture on my front right tyre. We immediately pitted and I went for a nose change as well; then, just after the end of the Safety Car, I tried to overtake Sargeant from the outside, and made sure to leave enough space – unfortunately, he locked up and ended up taking me out. We pitted again to check the damage on the car, and found it wasn't possible to go further. Today just wasn't meant to be for us, which is a shame, as I reckon our car had potential to do well at the start of the weekend. Overall, this back-to-back unfortunately didn't go how we expected: now, it will be important to reset, in order to come back ready in Doha in a couple of weeks, and tackle the remainder of the season."
Zhou Guanyu (car number 24):
Alfa Romeo F1 Team Stake C43 (Chassis 03/Ferrari)
Race result: 13th
Fastest lap: 1:37.791 (Lap 45)
Tyres: New Soft (2 lap) – New Soft (9 laps) – New Soft (20 laps) – New Hard (23 laps)
"I had a very good start, and I was attempting to charge my way through the pack and gain some positions: then, four cars touched in front of me, and a rather big piece of carbon got stuck right in my front wing. From that moment onwards, my race was compromised, and I had to take it easy in order not to damage the car. Performance wise, I think our pace today was alright, likely quicker than the Alpha Tauris, which seemed to have a more competitive package this weekend. In terms of our own package, we sure made a further improvement from Singapore, and it will be important to analyse the data we have gathered: in general, I reckon our speed now allows us to fight just outside the top ten, and it will be fundamental to keep on working towards improving that. Unfortunately, this weekend hasn't been the best: my qualifying chances were compromised yesterday, and ultimately, my race as well. Now, we will head back to Europe, getting some rest after a challenging double-header, and then work hard to prepare the races ahead."