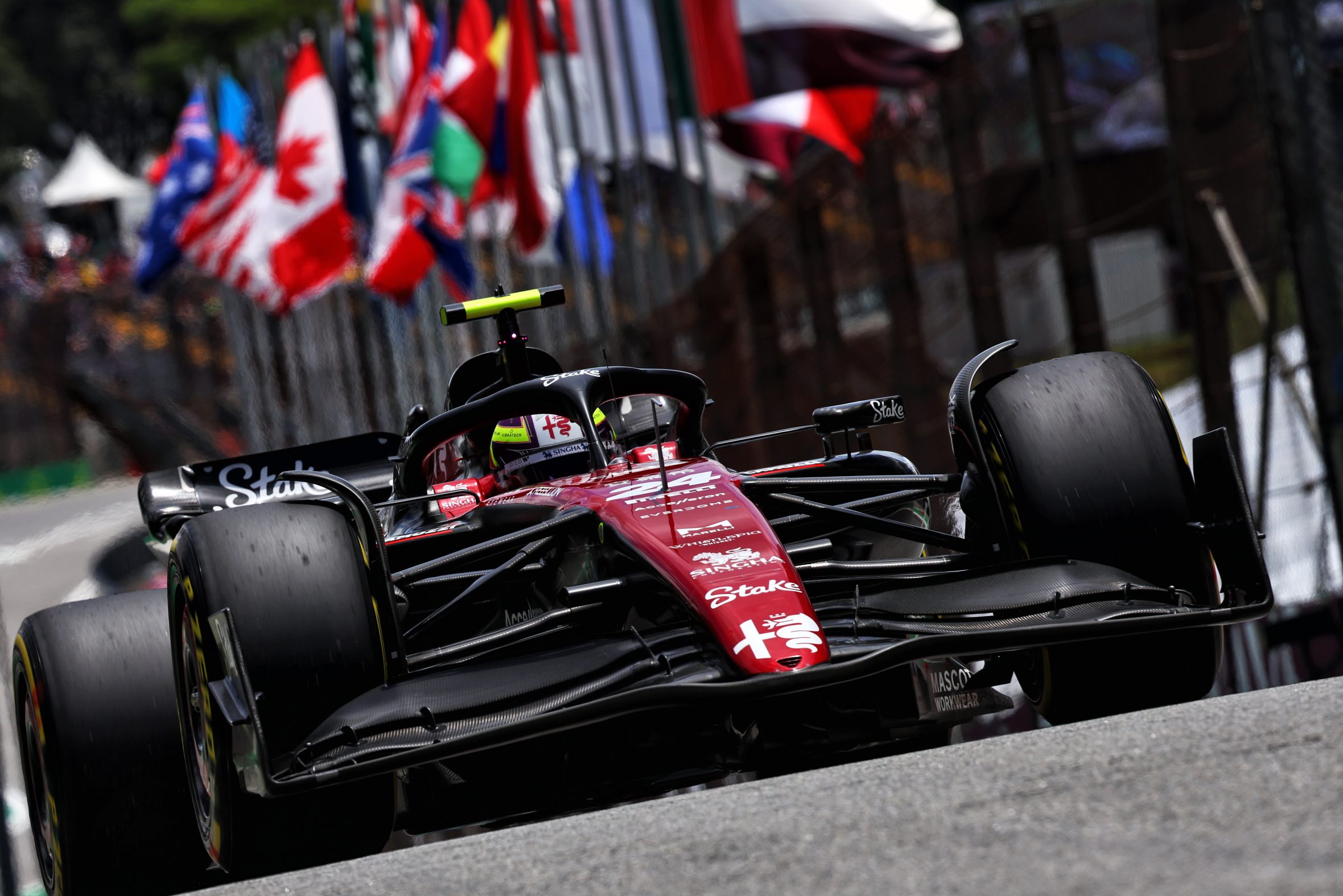 Alfa Romeo F1 Team Stake endured a frustrating Sprint race at the Brazilian Grand Prix, with Zhou Guanyu and Valtteri Bottas spending the majority of their afternoon stuck in a DRS train that left them unable to make any progress in the 24-lap dash. 
It was a disappointing day for the team, but one that at least provided some indication to follow before tomorrow's main event, the Brazilian Grand Prix race. 
Alessandro Alunni Bravi, Team Representative: "Every day, in every race, there is something to learn, and today's lesson was a tough one to take in for the entire team. We must look at the reality around us: our direct competitors are faster than us at the moment, and we haven't been able to deliver so far this weekend. Both our drivers found themselves stuck in a DRS train for most of the race, and were struggling to either attack or defend. As our main opponents made a further step in the standings, things do seem difficult for us right now. It is not the time to lose confidence, though: from tomorrow's main event, and for the next two races, all of us trackside, our drivers, and the team back at base, we must give all we have to finish our season in the position we deserve."
Valtteri Bottas (car number 77):
Alfa Romeo F1 Team Stake C43 (Chassis 02/Ferrari)
SQ1: 1:12.303 (5 laps)
SQ2: 14th / 1:11.872 (3 laps)
Sprint: 19th
Fastest lap: 1:15.738 (Lap 3)
Tyres: New Soft (25 laps) 
"It's been a difficult day in which we didn't have the pace we expected, especially towards the end of the Sprint, and it was very challenging not to slide around in the corners and overheat the tyres. It seemed our difficulties were very specific to today's conditions, and I really hope tomorrow's expected cooler temperatures will help us improve. My race was compromised at the start – I tried to make some gains, but got squeezed out at turn two and that cost me all momentum on the straight. We had to roll the dice in the first couple of corners, but it didn't pay off: afterwards, it was quite a frustrating race, which felt much longer than 24 laps. Still, we don't drop our head, we will try again tomorrow: everything can happen in Brazil and we need to give it our all."
Zhou Guanyu (car number 24):
Alfa Romeo F1 Team Stake C43 (Chassis 01/Ferrari)
SQ1: 18th / 1:12.497 (5 laps)
Sprint: 17th
Fastest lap: 1:15.837 (Lap 3)
Tyres: New Soft (25 laps) 
"We made an improvement in terms of pace compared to yesterday and this morning, and we were a bit closer to our direct competitors – even if not quick enough yet to make the step up we needed. Unfortunately, I got stuck in a DRS train for most of the Sprint, and I was only able to put up a fight and gain a few positions in the closing laps. Looking ahead to tomorrow, there is still all to play for; the weekend has unfortunately been quite tricky for us so far, and starting from the back of the grid is, of course, not ideal. Still, we'll be looking into the data gathered from the track today, in order to find that extra step of performance and maximise what we can get. We saw in the Sprint that there can be a lot of battles around here, and we are determined to get stuck in during the race."