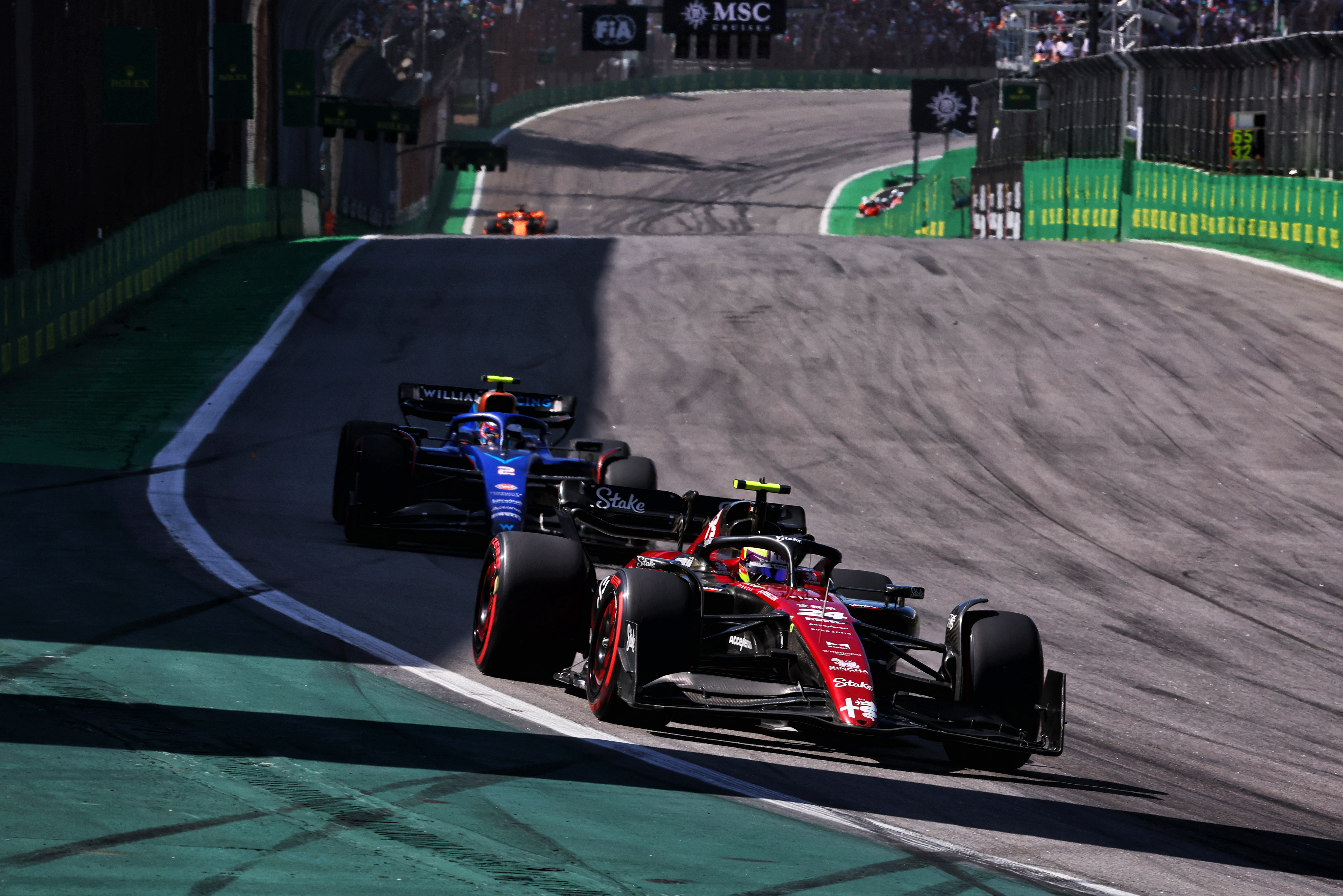 Alfa Romeo F1 Team Stake suffered the cruellest of heartbreaks as Valtteri Bottas and Zhou Guanyu both retired from the Brazilian Grand Prix while in contention for the points. Both cars were sidelined with technical issues, nullifying a good team performance.
The disappointment is still very fresh, but there are positive elements to take to the final two races of the season: a solid pace on all compounds, good teamwork and strategy and consistent pit-stops are what the team will need as it approaches the closing stages of the 2023 campaign.
Alessandro Alunni Bravi, Team Representative: "We're really disappointed today, especially because both drivers were delivering very solid races. Valtteri was firmly in P10, with Zhou right behind him, after a good start and with a car that performed much better than in the previous days. We were fighting with the Alpines, the AlphaTauris and a points finish was definitely on the cards. Last year we suffered quite a few DNFs, and this year we improved significantly: it's therefore even more disappointing to have two of them in the same race, and at the end of the season, when every opportunity matters even more. We will need to investigate exactly what happened, it was two separate issues that forced us to stop the cars to avoid any further damage. We will look into them in Hinwil to make sure neither reoccurs. Despite the disappointment, there are positives: we saw an improvement in performance that went alongside the lower track temperatures. This gives us confidence for Vegas, but also shows that we are very sensitive to changes in track conditions, and that we struggle to produce consistent performances in different situations. Our strategy today was the best one to maximise our result, and the drivers worked well together to execute it, but sadly we never had the opportunity to see its results. Now there's no room for regrets: we need to focus on the final two races and maximise everything we can. It's going to be hard, but we owe it to our team members, our partners and our fans."
Valtteri Bottas (car number 77):
Alfa Romeo F1 Team Stake C43 (Chassis 02/Ferrari)
Race result: DNF
Fastest lap: 1:15.731 (Lap 20)
Tyres: New Soft (2 laps) – New Soft (16 laps) – New Medium (21 laps)
"Our pace felt pretty good today, a definite improvement from the rest of the weekend: we adapted well to the cooler temperatures, and we were in the mix to bring home some points. I had managed to avoid all the debris from the turn one collision at the first start but, unfortunately, we eventually had to retire the car. We still need to investigate the technical issue that caused it, but the frustration remains. It was a real shame, as we actually had the chance to build something really promising today. The weekend overall has been a tough one for us; with only two rounds to go, things look pretty difficult for our side: still, we won't give up, and we will keep working hard to try and make up for the positions lost in the final two rounds of the Championship."
Zhou Guanyu (car number 24):
Alfa Romeo F1 Team Stake C43 (Chassis 01/Ferrari)
Race result: DNF
Fastest lap: 1:16.232 (Lap 17)
Tyres: New Soft (2 laps) – New Soft (13 laps) – New Medium (7 laps)
"We had a good chance to score points with both cars today, Valtteri and I working together to finish in the top ten, so it's extremely frustrating to finish the race like this. We had good pace and we were making progress from the back, but we had a technical issue and had to stop the car. I don't know the details yet, we will need to investigate the problem fully to understand what happened, but we had to stop to prevent any worse issues to appear. It's sad, but it's motorsport: now we need to focus on Las Vegas, and work to make sure we can be as competitive there as we were today."