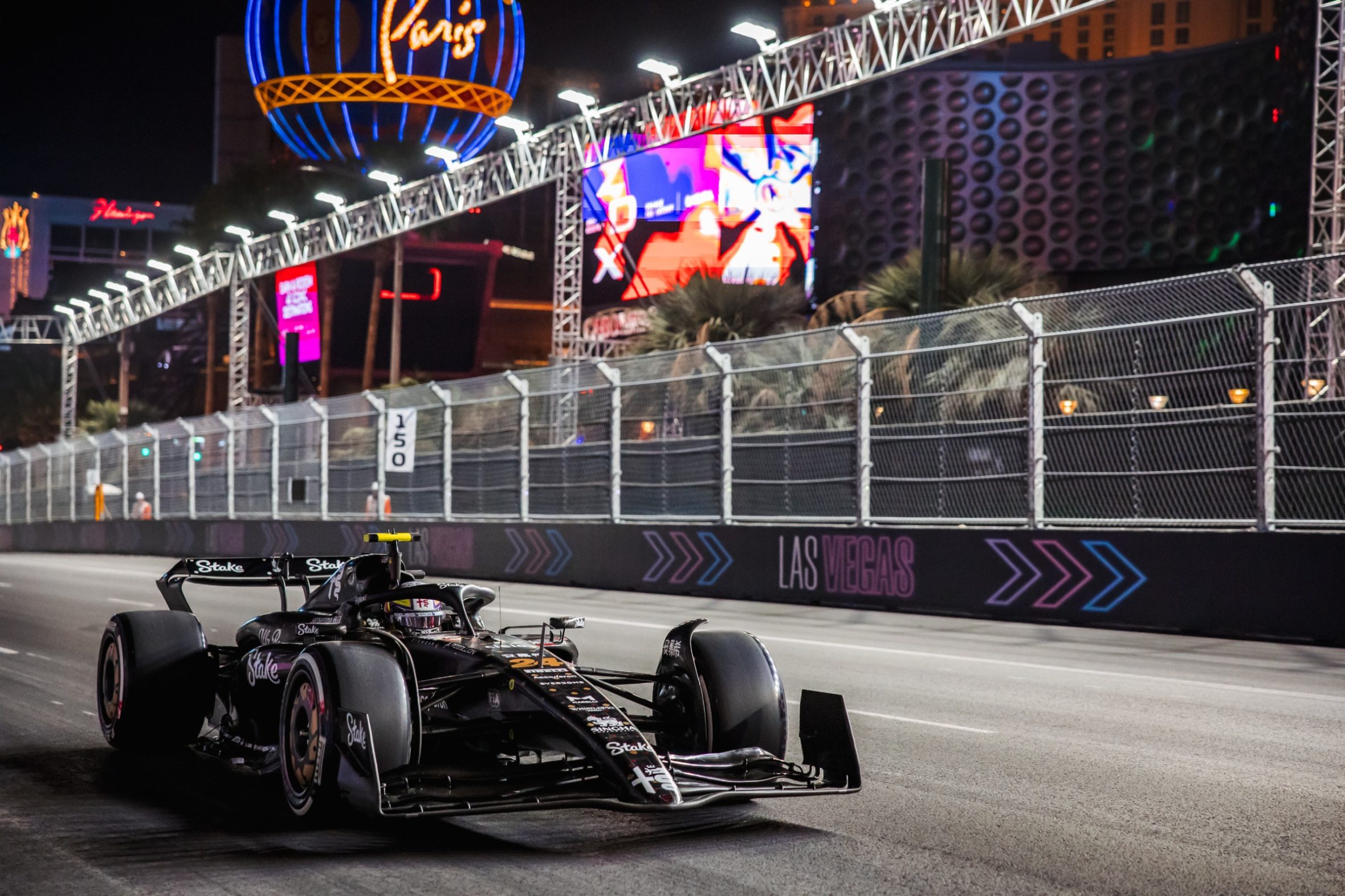 Alfa Romeo F1 Team Stake saw its chances of a strong finish in the inaugural Las Vegas Grand Prix vanish on lap one, as Valtteri Bottas was taken out by Fernando Alonso and then hit from behind by Sergio Perez at the first corner. The damage sustained meant the Finn could not convert his excellent seventh place on the grid into points, finishing 17th. Team-mate, Zhou Guanyu, fought bravely from the back and ran briefly on the edge of the points, before eventually finishing 15th.
A disappointing result after such a promising Saturday, but the team can at least get confidence from the pace shown before tonight as we prepare for the final race of the season, in Abu Dhabi.
Alessandro Alunni Bravi, Team Representative: "It is clear that, unfortunately, this is not our season. Tonight, we had a strong grid position with Valtteri in P7, but that was nullified at the first corner already, as Alonso spun in front of him: Valtteri had nowhere to go, and was also hit from behind by Perez, suffering heavy damage to the floor and diffuser. We saw a loss of more than 20 points of downforce, and that made the car nearly undriveable: Valtteri still brought it home, but it wasn't possible to salvage a good result. It's a shame as we say, earlier in the weekend, that his race pace was very good, especially with the hard compound. We chose a reverse strategy for Zhou, starting on hards and moving on to mediums: the early Safety Car did not help, but we noticed that in the end the pace we had was not enough for him to finish in the points. At least, our direct competitors didn't score either: we head to Abu Dhabi with one final chance to get points and finish the season on a positive note."
Valtteri Bottas (car number 77):
Alfa Romeo F1 Team Stake C43 (Chassis 02/Ferrari)
Race result: 17th
Fastest lap: 1:37.562 (Lap 49)
Tyres: New Medium (1 lap) – New Hard (23 laps) – New Medium (26 laps)
"I started in a very strong position but, unfortunately, my race was pretty much ruined at the first corner. After the contact with Fernando [Alonso], I got hit on the rear end, damaging my diffuser and compromising any chance to progress and recover the positions I had lost. It was a long race after that, with lack of pace and of grip as well. Obviously, it was really disappointing, especially as we were confident we could have had a good result today, and never got the chance to show our true performance. As a positive from the weekend, our one-lap pace definitely improved, which allowed us to get into Q3 yesterday. None of our direct competitors brought back points, which leaves things still open as we head to Abu Dhabi for the final race of the season: we'll be giving it all to make it back into the top ten and try to finish the season well."
Zhou Guanyu (car number 24):
Alfa Romeo F1 Team Stake C43 (Chassis 01/Ferrari)
Race result: 15th
Fastest lap: 1:37.375 (Lap 32)
Tyres: New Hard (26 laps) – New Medium (24 laps)
"The race was quite fun for me tonight, with some good battles and good moves, even though in the end we didn't get any points. I had to take evasive action at the start, so I couldn't really take advantage of the chaos ahead of me, and we chose to pit when the Safety Car came in. That meant having to do 30 laps on medium tyres: the strategy worked well and allowed me to make up a few places and get into a battle with Lewis [Hamilton] and Fernando [Alonso] but, with no further chances to pit, I was exposed in the final ten laps: when the tyres were over, my laptimes started dropping off and I ended up 15th. That's how we ended there: starting where we did, however, in 17th, we didn't have a lot of chances to score points, but at least we had some fun battling. Now, let's focus on Abu Dhabi: it is the final race of the season, and we're determined to have a good weekend."