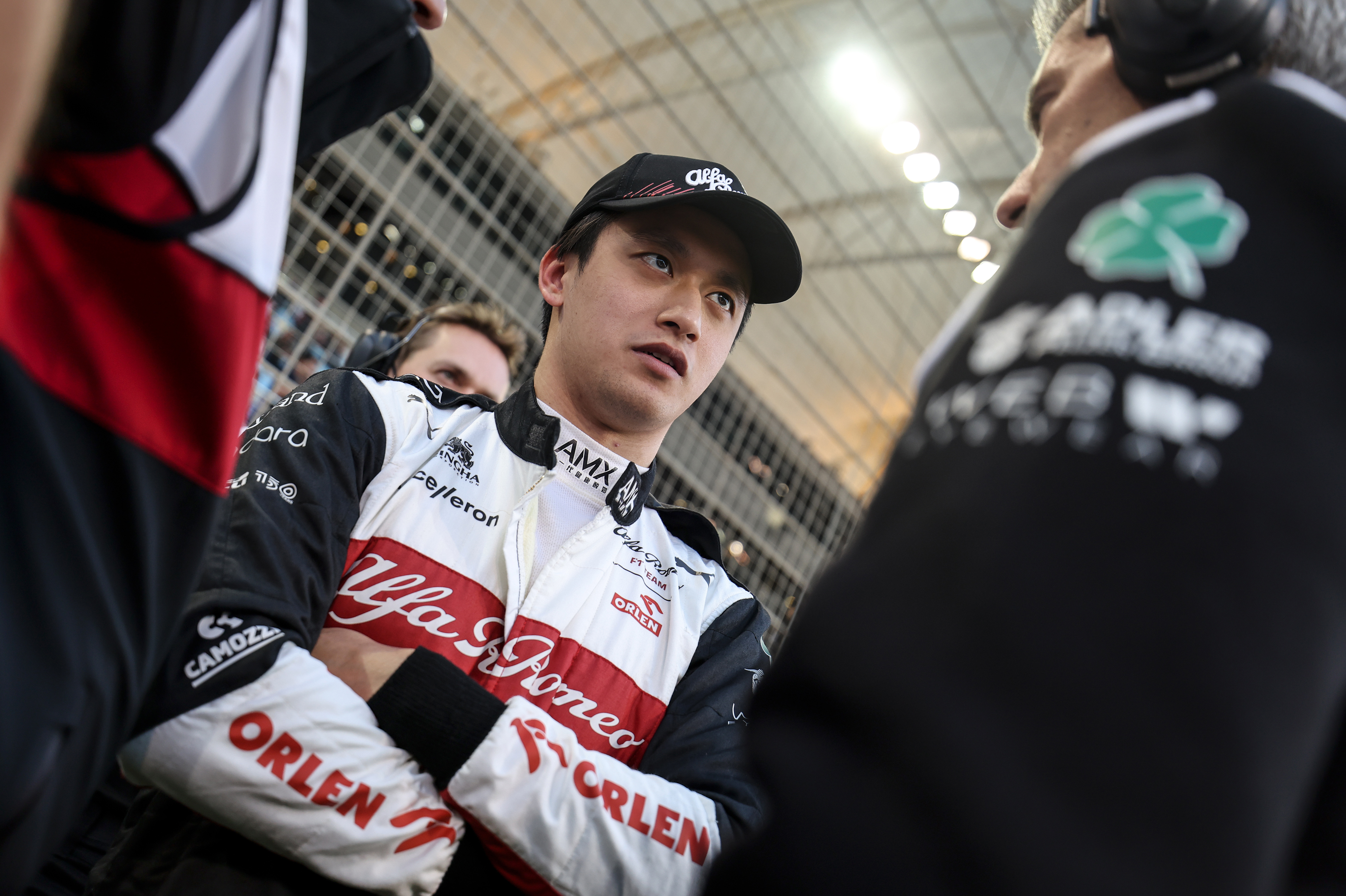 China's F1 rookie outstrips expectations with brilliant 10th-place finish at Bahrain Grand Prix
Chinese driver Zhou Guanyu was left "speechless" after enjoying a dream Formula 1 debut at Sunday's Bahrain Grand Prix.
Outstripping all pre-race expectations, the 22-year-old steered to an impressive 10th-place finish for Alfa Romeo F1 Team ORLEN, and afterward told China Daily in an exclusive interview that he felt both relieved and a little overwhelmed by his stunning drive.
"When you actually race your dream, you suddenly realize it's more than just a dream as there are so many difficulties in front of you," said the F1 rookie, who earned a precious point for placing 10th.
"I achieved my goals in my first race, and there are so many thoughts in my head. I'm overjoyed at the moment, because of all the effort I put in to get here and all the help that people have given me.
"As I said before the start of the season, I want to prove myself on the racetrack, and I think I have proved myself in the best way possible. I feel I have released a lot of pressure."
In a vindication of sweeping new technical regulations, the new season got off to a thrilling start in Bahrain. Charles Leclerc led a Ferrari one-two finish from pole ahead of teammate Carlos Sainz Jr, as Red Bull's defending champion Max Verstappen and Sergio Perez were forced to retire in the closing laps.
However, the focus for Chinese fans on Sunday was how Alfa Romeo rookie Zhou managed to recover from a difficult start to overtake his rivals-among which were some of his boyhood idols.
"The F1 weekend is very demanding as I'm on the biggest stage with a bigger spotlight. So I need to focus on every detail and avoid mistakes," said Zhou, who became the 66th driver to score a point in his F1 debut.
"I would give myself 8.5 points out of 10 in terms of my performance. This is a great day, and I feel I had no problems in dealing with the physical pressure during the race. But I actually did have a lot of pressure mentally speaking."
While it was difficult to gauge exactly how Zhou would cope with the race-day intensity, his qualifying runs in Bahrain boded well after he reached Q2 and started Sunday's race 15th on the grid.
"From reaching Q2 in qualifying and then earning a point in the race, I have proved myself to all the people who doubted me, and I'm so glad that I have such a great team to support me," said the Shanghai native.
Team spirit
Alfa Romeo's other driver Valtteri Bottas, a former teammate of seven-time world champion Lewis Hamilton at Mercedes, finished a highly commendable sixth to underline the competitiveness of the Alfa Romeo C42 car.
"I think we had decent pace so it's encouraging and I'm really happy for Guanyu as well-first race and he got a point, which is really good," said Bottas. "So a couple of points to start the season-not bad."
Indeed, both the car and the chemistry at Alfa Romeo already appear to be working well, and Zhou said: "We have a great atmosphere in the team, and Bottas helps me a lot. I ask him many questions, and he makes me feel that he is a great driver and teammate. He is very fast and I can learn a lot from him. I feel so happy that we could both win points in the first race."
The rising Chinese star admitted going wheel to wheel with childhood idols like Fernando Alonso, who finished ninth, and Daniel Ricciardo, who was 14th, was a total thrill.
"When I compete on the track and put my helmet on, I turn on battle mode. So no matter who the driver or team is, I just think about how to defeat them," said Zhou.
"Many of the drivers are more experienced than me, but as long as I have chances, I can still overtake them in milliseconds. I will be very decisive on the track and all I want is to push forward. Now we are rivals, but it's an honor for me to compete with them."
After three impressive F2 seasons, Zhou made history in December when he was named China's first F1 driver. Ever the perfectionist, he resisted the urge to take his foot off the gas during the winter break, and instead launched himself into intense preparations for his rookie F1 season.
"The schedule was really tight, and I wanted to prepare as best I could. I stayed in Europe and worked with the team, so that the engineers could thoroughly familiarize themselves with my driving skills," said Zhou.
"The aim is to finish more races and earn more points. I hope I can get the most out of the car.
"Fans might think my next goal should be a podium finish, but I won't put that pressure on myself at this stage. Winning a point was unexpected enough. I just hope to keep racing solidly."